'Dancing With The Stars' Semifinals: See Who Advances To The Finals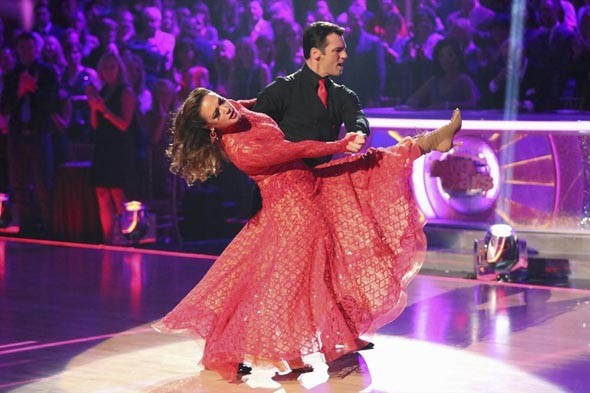 With only five couples left in the competition, Dancing With the Stars is getting fierce, especially when you put Maks on the judging panel. Leah and Tony kick off the night with the Paso Doble and prove that they are determined to win that mirror ball trophy. The judges congratulate the two on making it to the semi-finals but Len thinks that they were being a little careful. Regardless, the couple scores a 32 out of 40. They aren't done yet though as they will be performing another dance to the same song later on in the evening. Karina and Corbin will perform next and she admits it will be a little weird being judged by her ex-fiancé, Maks. Awkwardness aside, the two dance a hot Tango and score a smoking 35.
Jack and Cheryl perform a Jazz routine next to "Roxanne" playing off what Cher told them previously about him being a gentleman and Cheryl being a hooker. Interesting…Jack is on edge this week with some health issues related to his recent MS diagnosis. As Jack's mom, Sharon weeps in the audience watching the dance, the couple pushes the negative aside and powers through the routine as they score a 33. We are as surprised as everyone that Bill and Emma are still in the game this late in the competition. Bill starts to get frustrated as the pair practice the Cha Cha Cha and he injures his groin. Putting the pain out of his mind, he makes it through the routine and scores a compliment with Maks but receives a low 28 with the judges.
Trying to alleviate the stress from Amber's knees, Derek choreographs a Jazz routine that will go a little easy on her. The two do an amazing job utilizing a table and chairs and some spiffy hand jives and score an almost perfect 39 with the judges. Round two is up next with Leah and Tony kicking it off with the Argentine Tango. You can just see the passion in Leah's heart as she lights up the stage and scores a 33, making their total for the night 65. Karina and Corbin will be dancing the Rumba to see if they can score a perfect 40. The fact that he is so humble and down to earth makes us like him even more. They earn that perfect 40 bringing their grand total to 75.
Jack and Cheryl are the unfortunate couple who have to follow up that perfect 40 routine. With Jack's family behind him 100%, Jack tries to make them proud with his Argentine Tango. Well, that perfect 40 before his routine didn't scare him one bit as he and Cheryl score a 38 making their total 71. With only two couples left to perform, Bill and Emma will dance the Argentine Tango. Although we all know their skill won't be through the roof, we are still excited to watch him. The two score a 32 making their grand total 60. Last but not least, Amber and Derek will perform the Viennese Waltz. Every time Amber steps foot on that dance floor, something magical happens and we aren't the only ones who see it. The judges give her a perfect score of 40, making their grand total 79. Can you say top of the leader board?
It makes us sad to think that one of these couples will be going home because we just love them all. Corbin and Karina are the first couple to secure a spot in the finals, followed by Amber and Derek, Jack and Cheryl and Bill and Emma, sadly sending Leah and Tony home on this tenth week of competition.