'Dancing With The Stars' Season 14 Kicks Off With A Bang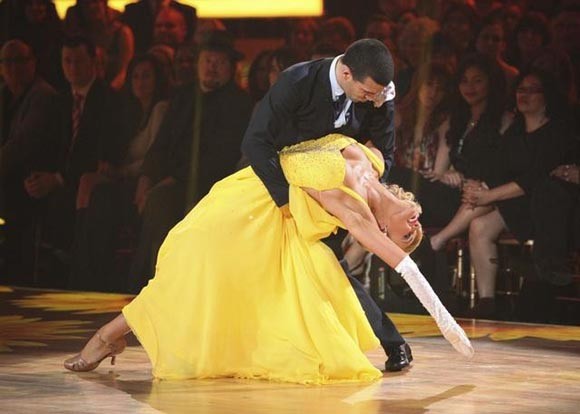 Last night, season fourteen of Dancing With The Stars kicked off with a bang. For the premiere the couples had the option of either choosing the Cha-Cha-Cha or Foxtrot, which they all performed amazingly. In fact the performances were so great that judge Len Goodman stated that it was by far the best season premiere that he had ever seen.

During the night contestants came one by one, some with big smiles, some with moves that seem to be a little too hot for television and some with pure elegance; which made it a very impressive show that seemed more like week five than one.

Here is a recap of the show which includes the dances, scores, songs, judges response for each couple and my personal opinion. Let me know your thoughts down below.
1. Maria Menounos (Actress, Author and TV Host) & Derek Hough
 
Dance: Cha-Cha-Cha
Song: Kelly Clarkson- "Stronger"
Score: 7,7,7

Judges: Len said nothing can prepare you for the first dance, but overall very well. His only advice was that Maria add more hip action. Bruno said curvaceously delicious and that Maria has it. His only advice was for her to move her hips more and be sexier. Carrie Ann said that it was a great way to start off the season and good placement. Her advice to Maria was to work on her confidence.
In practice Maria said that it was hard for her to do girly stuff, but her outfit and moves said the opposite. Overall I thought that the performance was good and definitely a great way to start off the evening. However I do agree with the judges, more hip action is needed.
2. Jack Wagner (Actor) & Anna Trebunskaya
Dance:Foxtrot
Song:Nancy Sinatra- "Sugar Town"
Score: 8,7,8

Judges: Bruno said love is in the air. Beautiful dancing, acting and he loved the way they extended their moves. Carrie Ann said that they took her to a happy place. Len said that the technique was poor, but the whole feeling overall was wonderful.
Jack and Anna's performance was one of the best of the night. During the performance Jack brought his acting skills on the floor, and as Carrie Ann said, he took us to a happy place.
3. Donald Driver (NFL Football Star) & Peta Murgatroyd
Dance: Cha-Cha-Cha
Song: Lloyd ft. Lil Wayne- "Dedication To My Ex"
Score: 7,7,7

Judges: Carrie Ann said nothing but charisma and charm today. Love the routine. It was a crowd pleaser. Can't wait to see you comeback next week. Len said flair, exciting, but started losing time a little. He told Donald that next week he wants to see him have more control. Bruno said diamond in the ruff, energy, power and presence. Attitude is right, but needs to refine it.
Donald and Peta's performance was steaming hot, and another one of my favorites. Out of all the performances, I would say that this was the most energtic and exciting.
4. Gavin DeGraw (Singer and Songwriter) & Karina Smirnoff
Dance: Foxtrot
Song: Lady Antebellum- "I Run to You"
Score: 7,6,7

Judges: Len said he liked the routine, but it was very stiff. He also added that it wasn't the greatest. Bruno said great charm, but Gavin needs to learn to link his moves. He added that Gavin is stiff in all of the wrong places. Carrie Ann said that there is a tenderness to his dancing, which is very nice.
During practice Gavin mentioned that most people think since he is a musician that he can dance, and I think that this insecurity showed in his performance. He seems like he has a great personality, but I don't think that he has what it takes to be in this competition.

5. Roshon Fegan (Disney Star) & Chelsie Hightower
Dance: Cha-Cha-Cha
Score: 8,7,8
Song: The Wanted- "Glad You Came"

Judges: Bruno said that Roshon could go on and on. Razor sharp and unbelievable. Carrie Ann said coolest spin ever seen with the Cha-Cha-Cha, Michael Jackson. Len said that he is a good dancer, but a little too much for him. Hopefully as the competion goes on he will develop.
As Bruno said, Roshon's dancing was amazing and I loved how he incorporated his Hip Hop dance style into the performance. Definitely one of the best of the night.

6. Sherri Shepherd (Actress, Comedienne and TV Host) & Val Chmerkovskiy
Dance: Foxtrot
Song: The Four Seasons- "Sherry"
Score: 8,7,8

Judges: Carrie Ann said happiest contestant ever seen, very sassy and elegant. Len said that Sherri brought joy. Fun, Fun, Fun. Bruno said she lights up the room and very good with her feet.
I don't think that there was a soul, who did not like this performance. Sherri was like a light that beamed throughtout the entire performance and the song choice was perfect.