'Dancing With The Stars' Says Farewell To Lisa Vanderpump In Week 4 Results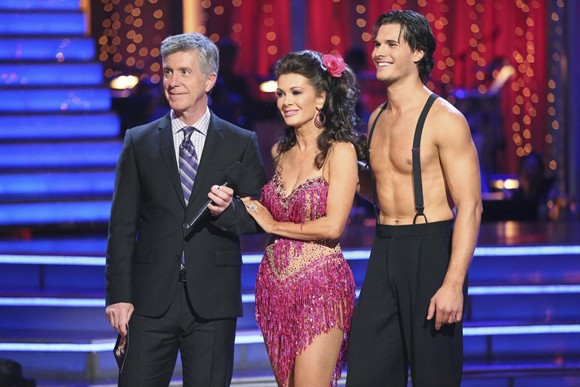 There was no big surprise in last night's elimination on 'Dancing with the Stars,' as the ailing Lisa Vanderpump was eliminated from the mirror ball quest.
The Real Housewives star, who fainted in rehearsals last week, just couldn't seem to keep up with her busy schedule and the physical demands of the dance competition. Lisa thanked her partner Gleb Savchenko, saying it was "a gift" to dance with him, while also giving praise to the remaining competitors.
Here is a breakdown and recap of the evening:
Before any of the couples learned their fate, the professional and Troupe female dancers performed on the dance floor.
In the first results Ali and Mark, Zendaya and Valentin, Kellie and Derek, and Ingo and Kym were all pronounced safe for another week.
After Ali and Mark's encore performance Jacoby and Karina and Sean and Peta were also announced as safe and returning for another week. After his disappointing performance on Monday night Sean was sure that he and Peta would be in the bottom.
Country star Brad Paisley performed his hit song "Comfort Zone" from his new album "Wheelhouse."
In the first AT&T Spotlight dance of the season blind dancer Brilyn Rakes fulfilled a dream when she performed in Ballroom with her favorite dancer Derek Hough.
In a premiere performance Andrea Bocelli and Jennifer Lopez sang their duet from Bocelli's new album.
The final four couples learn their fate in the last results of the night. D L and Cheryl and Andy and Sharna are safe; but the two couples with the lowest scores Lisa Vanderpump and Gleb and Victor and Lindsay are in the bottom two facing elimination from the competition.
Finally host Tom Bergeron announced that Lisa and Gleb Savchenko were eliminated from the competition after a difficult week.
Next week the couples will be joined by a returning professional for a threesome dance.