'Dancing With The Stars' Review: Week Three Elimination... Wendy Williams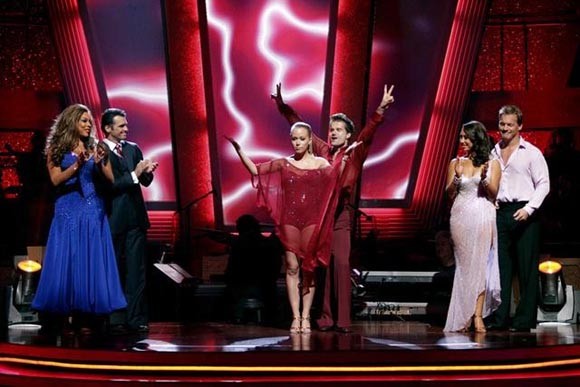 Monday night we laughed and cried, and oohed and aahed, among other cliche reactions, over the emotional stories our stars told with their dances.  We collectively cringed over Kirstie and Maks' fall, then talked about it all day long.  We discussed how the scores have been all over the place this season... and then talked about Kirstie and Maks some more.

Look, you fall down on 'Dancing', and you're going to have to talk about it and hear about it until you have a nervous breakdown.  It's just the way it is.

Here's a run down of where we stood after Monday's performances:

1. Hines and Kym - 25
1. Petra and Dmitry - 25
2. Chelsea  and Mark - 23
2. Kendra and Louis - 23
3. Kirstie and Maks - 21
3. Ralp and Karina - 21
3. Chris and Cheryl - 21
4. Romeo and Chelsie - 20
4. Sugar Ray and Anna - 20
5. Wendy and Tony - 15

Four ties.  It really is a close game.  Unless you're Wendy Williams.

This week they brought back the encore dances, and the encore went to Hines and Kym's samba.  I still think the start was sloppy, but obviously the judges saw something I didn't.  Oh, and they were told they were safe before they performed, which was nice.  Just after, Sugar Ray and Romeo got their pass to next week.  Yay, Sugar Ray!

We took a break from the results for some mediocre generic rock music.  I know One Republic is popular, but that doesn't always mean good.  Need I remind you of the 80s?  Side ponytails and parachute pants?  I rest my case.

Anyone who thought we would get out of this results show without seeing Kirstie and Maks' fall a half dozen times would have been clearly delusional.  The replay with Maks and Kirstie's personal audio was sweet, though, with Kirstie making sure Maks was okay, and him just telling her to go.  They seem to have a great sense of humor about it.  Between Kirstie's "You're so pretty, Brooke Burke.  Let's change the subject," and Maks joking around in the backstage clip about taking Kirstie down with him on purpose, I couldn't help but smile.

Next Petra was safe, and Wendy was told she was in jeopardy.  I have to wonder if all the people who booed that actually saw the show the night before.

We got a great package of the stars from when they were given cameras to film their days.  Among the clips were Kendra's son drooling on her, Petra smacking Dmitry around (my personal favorite clip), and Ralph revealing a little more of himself than I would have liked to see.  Seriously?  Why? There are several other people on the show I would have preferred to see naked, so next time I vote that the producers take a poll before inflicting that on us.

Selena Gomez also performed, and I have to admit that I didn't really know anything about her before the show. Her music is not my cup of tea, but I was impressed by the depth of her voice.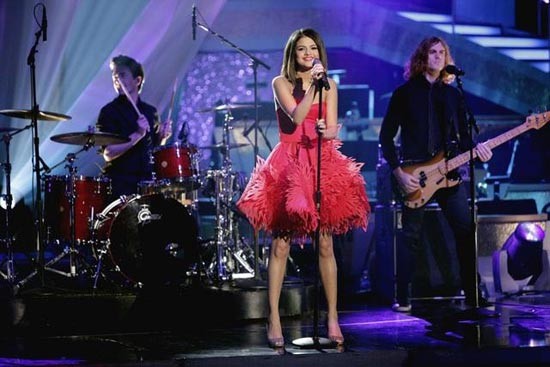 And then we continue... Chelsea was safe, but Kendra was not.  Ralph and Kirstie passed, which left Chris and Cheryl in the bottom three with Kendra and Wendy.  I said last night that Wendy would go home unless America took crazy pills and it looks like America decided to stay in their right minds last night.  Wendy went home.  She turned her departure into a plug for her show, and then went and shook hands in the audience like she was a presidential candidate, leaving Tony alone on the dance floor.  Um... okay.

While her dancing alone was bad enough to get her booted, I was getting tired of "I thought I was great; what else could they ask of me?" attitude.  It's simple, we asked for you to dance like you mean it.  Shame that never happened, but there is certainly no love lost.