'Dancing With The Stars' Review: And The First Elimination Of Season Twelve Is...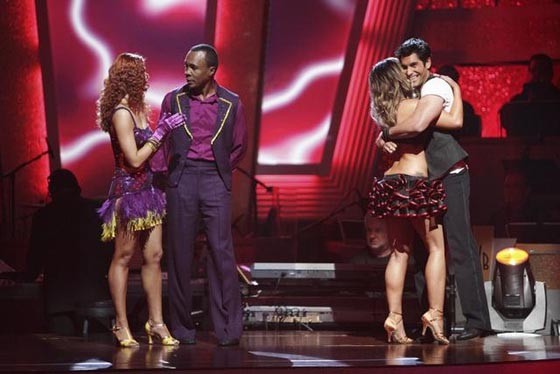 It's inevitable.  One by one, all the contestants on 'Dancing With The Stars' will go home until there is only one left standing.  It's no fun for anyone, but for the very first to go, it downright stinks.

Of course, before we kick someone off the dance floor crying (maybe), the first hour of 'Dancing' is the recap hour.  I actually really like to rewatch the dances without all the extraneous stuff.  And I have to admit that on second watch, yes, I was a little harsh in my criticism of Petra this week.  Did I think she had any better a chance going into the elimination show after a rewatch than I did before?  Not a chance.  But I was a smidge hard on her.  Just a smidge.

The recap show also let me give you the leader board run down after both scores were totaled without doing math.  That's always a plus.  Here it is:

1. Ralph and Karina, 45/60 points
2. Hines and Kym, 44/60 points
3. Kirstie and Maks, 43/60 points
4. Chris and Cheryl, 42/60 points
5. Romeo and Chelsie, 42/60 points
6. Chelsea and Mark, 39/60 points
7. Kendra and Louis, 37/60 Points
8. Petra and Dmitry, 36/60 points
9. Sugar Ray and Anna, 34/60 points
10. Wendy and Tony, 31/60 points
11. Mike and Lacey, 30/60 points

Now let's bring out the chopping block!  

We jump right in with our three athletes, and learn that Hines and Chris are safe, while Sugar Ray is in jeopardy.  No surprises there.  Then there were the special guests, as usual, to prolong what could be a fifteen minute results show into a full hour.  

This week we had Chris Brown, who lip-synced over his auto-tuned vocals decently, and danced better, which seems to me to be defeating the point of being a singer.  Call me crazy, but I kind of like to see singers actually sing their songs, and leave the boogieing to other people if they can't dance at the same time.  (Yes, I said boogieing.  I am very hip.)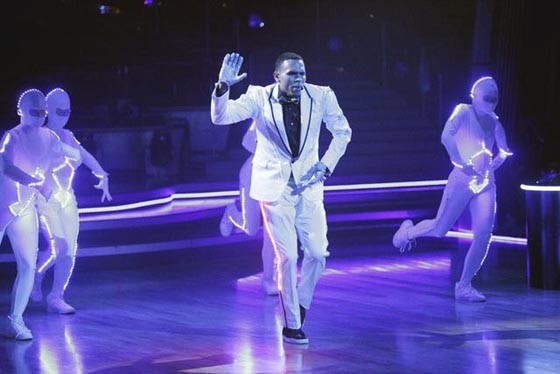 Our trifecta of actors came next, and Ralph, Kirstie and Chelsea were given a green light to move on. Next Romeo was deemed safe, and Mike was told he was in danger.

We met the new 'Dancing With The Stars' troupe after that, and added more length to the show by watching them dance.  It was nothing spectacular.  It was good, but it was about the same level as the other pro group dances we see all the time on the show.

Kendra and Petra made the cut next, which left Wendy in the bottom three with Sugar Ray and Mike.  So apparently viewer votes mirrored the judges in this sense.  I'm still a little shocked Petra wasn't in that group; I thought Sugar Ray's likability would keep him out of the bottom.  Obviously other fans don't find him a cute as I do, bad dancer or not.

Who went home?  Mike Catherwood.  If there was anyone out there who wasn't expecting this, they can't possibly be of this world.  And while there was no crying, there was some truly goofy solo dancing for the camera as the credits rolled.

So we got a singer who's not really singing, dancers who danced the same way we've seen a hundred times, and a loser we all expected.  It wasn't really the most exciting of all results shows, but this is only the beginning.  Judging by how much everyone stepped up their game on Monday, I expect the competition to get harder and harder.