'Dancing With The Stars' Results: Roshon Fegan And Melissa Gilbert Say Farewell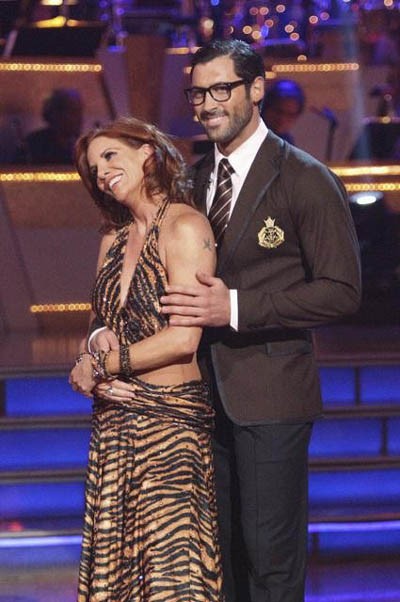 In the words of Len, "fun, fun, fun" was the tone for the night, which kicked off with a killer trio encore performance by Donald, Peta and Karina. Chris Brown also kept the crowd going and blood pumping with his high energy performance of "Turn Up The Music."

The evening also brought a wonderful tribute to Dick Clark featuring the original dancers from American Bandstand, a beautiful routine from Dancing With The Stars' Live In Las Vegas and a hilarious Dance Center skit with Jerry Rice, Kenny Mayne and Len undressing.

Although it was a fun night the show had to go on, and two of our stars said farewell. Here were the scores going into elimination.

1. Katherine Jenkins & Mark Ballas- 272
2. William Levy &  Cheryl Burke- 265
3. Maria Menounos &  Derek Hough- 262
4. Donald Driver &  Peta Murgatroyd- 260
5. Roshon Fegan &  Chelsie Hightower-257
6. Melissa Gilbert &  Maks Chmerkovskiy- 229

The results started off with Donald and Katherine being called to the front. Out of the two Donald was saved and Katherine, the leader of the scoreboard, was told that she was in jeopardy of being eliminated.

Next came William and Roshon, two of the top dancers in the competition. William was told that he would be in the semi-finals, and Roshon was unfortunately eliminated. It was sad to see that Roshon was eliminated. But, out of the other top dancers I would say that it was definitely his time to go.

Maria and Melissa were the last group to be called up to the front. Maria was saved and Melissa was placed in the bottom with Katherine. Which I thought was fair. Melissa has been literally holding on by a piece of thread, so I was pretty confident that she would be placed in the bottom and even go home.

Who was the second to go home? Melissa

If Katherine would have been sent home that would have been just wrong. It was a sad farewell, especially since yesterday was her birthday, but hey it's a competition. I'm glad to see that her and Roshon went out with a bang though.

"I'm amazed that I made it this far, and all the things that I learned makes it a great birthday," Melissa said when asked about being eliminated on her birthday.

Thoughts? Were the eliminations fair?