'Dancing With The Stars' Results: Maria Menounos' Top Scores Not Enough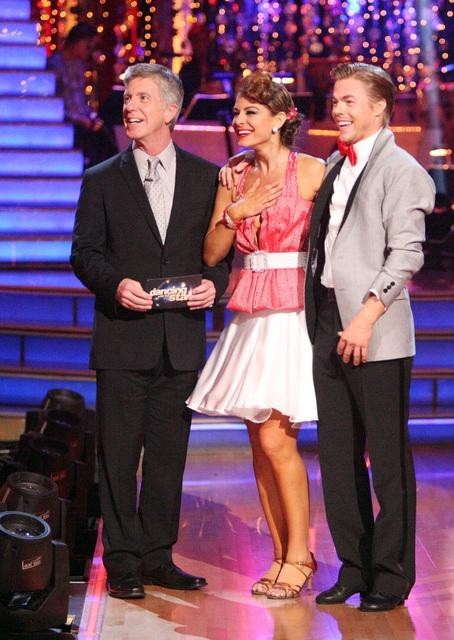 What a shocker! The semi-finals' results show brought some spectacular performances and a couple of big surprises. The night kicked off with a sexy encore samba by William and Cheryl, followed by an explosive high energy dance presentation by dance pros Tristan and Chelsie to Beyonce's "End of Time."

Award winning singer Alanis Morrisette also graced the ballroom floor with her performance of "Guardian" off of her new album Havoc and Bright Lights. And Carrie Underwood blew us away with "Good Girl," followed by Mary J.Blige, Juilanne Hough and Diego Boneto rocking out to a medley from the upcoming film Rock of Ages.

The performances of the night were "A"mazing and were a great filler that came in between the results that literally had viewers on the edge of their seats. Here were the scores going into elimination along with results from last night's show.
Be sure to leave your thoughts down below!

1. Katherine Jenkins & Mark Ballas- 328
2. William Levy &  Cheryl Burke- 323
3. Maria Menounos &  Derek Hough- 321
4. Donald Driver &  Peta Murgatroyd- 317

Katherine was the first to be called up for results and even to her surprise the classical singer wasn't eliminated. Over the past few weeks her performances have been overshadowed by Maria's, but last night the viewers proved that she was still a top contender. And the singer got so caught up in the moment that she literally forgot about her mild injury, almost leading to another one as she jumped for joy.

Next came Maria who has been quickly moving up the leaderboard. And based on the stellar routines that we have been seeing from her and Derek I was pretty sure that she would be in the finals, but Monday's top scorer was placed in the bottom.
After this surprising placement William and Donald were called to the front. And latin heartthrob William was told that he would be going to the finals, while Donald was placed in the bottom alongside Maria.
So, who went home? Maria Menounos
After her elimination the television host said, "I learned how strong I was, how to persevere." And yes she did. I will definitely miss her and Derek in the finals.
What about you?