'Dancing With The Stars' Recap: Zendaya & Val Score First 10s Of Season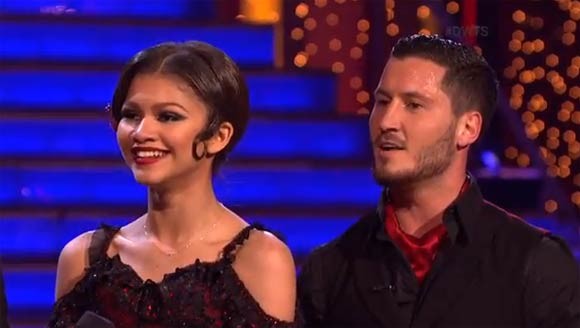 The couples face another new challenge on "Dancing with the Stars" when they must perform side by side with professional dancers as the halfway point of the season has arrived.
The night's dancing opens with a group performance from all nine couples as they perform "Don't Stop the Party" by Pitbull in a dance choreographed by Lacey Schwimmer.
This week the dances are longer with three parts – first it's the professional couple, then all four dancers perform together, and part three is the celebrity with their professional partner.
First up are Ingo and Kym with Emma and Tony for a Cha Cha that the judges said had attack, elegance, and grace but still needed a little work. Ingo and Kym scored 21 points for their Cha Cha.
A shirtless Jacoby and Karina performed a Jive with Anna and Maks that brought the crowd to their feet. Jacoby was hoping for a nine and to perform the encore dance on Tuesday. After his performance host Tom Bergeron said that he wanted to see it again. While Len noted that Jacoby's personality radiated throughout the Ballroom; he told Jacoby that he would never get a nine with those feet. At which point Jacoby reminded Len that he ran 108 yards in eleven seconds with those feet. Jacoby and Karina scored 26 points for their Jive earning Jacoby one of his two wishes.
Victor and Lindsay teamed up with Emma and Tristan for a Viennes Waltz that the judges said was better than last week, had fluidity, with good timing. Victor and Lindsay scored 21 points for their dance.
Aly, Mark, Tony, and Whitney performed a Samba that the judges said was in sync, had good technique, was sassy, and saucy. Aly and Mark scored 25 points for their Samba.
Looking to redeem himself after last week Sean and Peta paired up with Chelsea and Tristan for a Quickstep that had the judges proclaiming Sean is back and brought out the bird references calling Sean a swan and a pigeon. Sean and Peta earned their highest score with 24 points for their Quickstep.
Kellie and Derek were joined by Anna and Henry for a Foxtrot that had Len saying Kellie put the "oooo" in smooth and Bruno comparing Kellie to Jean Harlow in "Dinner at Eight." Kellie and Derek scored 27 points for their dance.
DL, Cheryl, Sasha, and Chelsea performed a Tango that the judges said lacked attack, was too mild, and lacked technique. DL and Cheryl scored 18 points for their dance.
Zendaya and Valentin paired up with Anna and Maks for an Argentine Tango. It was the first time Valentin had ever performed an Argentine Tango. The judges called Zendaya a fem fatal and the performance a gem of a dance. Earning a near perfect score and the first 10s of the season, Zendaya and Valentin returned to the top of the leader board with 29 points.
The final performance of the night was from Andy, Sharna, Emma and Sasha with a Paso Doble that had Andy making a grand entrance on a zip line. The judges called the performance fun and enjoyable with Carrie Ann calling the entrance unforgettable. Andy and Sharna scored 18 points for their Paso Doble tying them at the bottom of the leader board with fellow funny man DL Hughley.
On results night Selena Gomez and The Band Perry will perform.
Scorecard:
DL and Cheryl – 18
Andy and Sharna - 18
Ingo and Kym – 21
Victor and Lindsay – 21
Sean and Peta - 24
Aly and Mark - 25
Jacoby and Karina – 26
Kellie and Derek – 27
Zendaya and Valentin - 29