'Dancing With The Stars' Recap: Who Will Be Going To The Semi-Finals?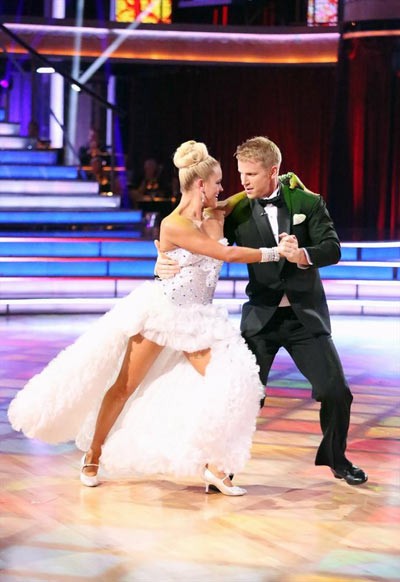 Only two weeks remaining in season 16 of "Dancing with the Stars" and each of the six remaining couples are hoping they will be the ones to move on to the semi-finals and get one step closer to the mirror ball trophy.
As the results show begins for the quarter finals the DWTS Troupe, Lindsay, and Gleb perform on the dance floor.
With only six couples left the results are given two couples at a time; first up were Ingo and Kym and Kellie and Derek with Ingo and Kym moving on to next week, but Kellie and Derek would have to wait a little longer.
The encore dance for this week was the perfect Salsa from Zendaya, Valentin, and Gleb.
In the next results Zendaya and Valentin were safe but Jacoby and Karina were in jeopardy.
Jason Derulo sang "The Other Side," danced, and performed gymnastics on the dance floor as he made his first television appearance after his accident last year.
Fans helped to decide who would be performing the new dances next week...
Kellie and Derek - Flamenco
Ingo and Kym - Charleston
Zendaya and Valentin - Hip-Hop
Sean and Peta - Disco
Aly and Mark - Afro Jazz
Jacoby and Karina - Lindy Hop
The Macy's Stars of Dance defied gravity when Derek Hough and Jamie Goodwin danced in a giant revolving room that enabled them to dance on the walls and ceiling.
British singing star Emile Sande sang "Next to Me". The BRIT Award winner broke UK music records when her albums remained on the UK Album chart for 62 consecutive weeks.

When the last two couples learned their results Aly and Mark were safe but Sean and Peta were in jeopardy.

In the final results of the night Kellie and Derek are safe leaving Sean and Peta or Jacoby and Karina as the couple to be eliminated. Just one week short of the semi finals the couple going home was... 'The Bachelor' Sean Lowe and dance partner Peta Murgatroyd.
"I've enjoyed every second of (the season)," Sean told Brooke Burke-Charvet. "I truly am blessed to have taken part in this with all these stars. I'm still just a normal guy from Dallas. What an incredible opportunity."

Tune in next week to ABC on Monday at 8 p.m. for the semi-final round of competition.