'Dancing With The Stars' Recap: Who Was Crowned Season 17 Champion?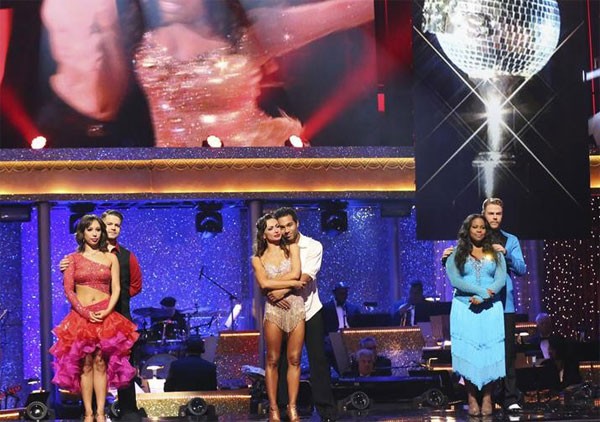 Tonight one of our favorite couples will be taking home that mirrorball to display on their mantle- will it be Amber and Derek, Jack and Cheryl or Corbin and Karina? After a performance by Enrique Iglesias and some fluff from the pros gushing about how their partners deserve to win, we are as anxious as you are for ABC to cut to the chase and announce the winner. But we all know that this is prime time television, which will be jam packed with 'filling' until the last minute when we find out who is crowned the Season 17 champion.
Amber and Derek's freestyle routine was picked by the Twitter audience as the favorite from last night and the couple will get the honor to perform the dance again tonight. What a lucky break for the group, Ylvis that the show decided to perform a dance to their song "What Does the Fox Say" because they now find themselves on the Dancing With the Stars finale show. Last month at this time we had never even heard of them. Is that what a fox says anyways?
They wouldn't have been able to have a finale without another Bill Nye the Science Guy performance though, equipped with a dozen back handsprings. Thank you ABC! And he isn't the only celebrity castoff who is happy to be back. You can see on Elizabeth Berkley's face how happy she is to be back on that dance floor. After a performance by Lady Antebellum and just as we are beginning to forget who the actual top three celebrity dancers are, they bring Amber Riley, Jack Osbourne and Corbin Bleu back to perform for us.
Corbin and Karina are starting off the night dancing a Cha Cha Foxtrot fusion, which would be incredibly difficult for anyone else, but the two pull it off with ease and score a 27 despite a little misstep from Corbin. Next up to perform the possible winning dance is Jack and Cheryl with the Paso Doble Salsa fusion. Although the couple has never performed the Salsa before, they actual make it look good and score a 27 with the judges. Len does have a point when he brings up the fact that Jack is the only one of the three remaining celebs without a dance background- shouldn't that make it a guaranteed win? Not when Amber and Derek continue to amaze the pants off of us every time they step on that dance floor. Tonight, their last dance is a Samba Quickstep fusion, which would challenge even the most professional dancers but they killed it scoring a perfect 30. Is this our winning couple?
And now it is time for the results…the first couple to leave the finals in the third place position is Jack and Cheryl, leaving second place to Corbin and Karina and the winning spot to Amber and Derek!! Congratulations Amber Riley and Derek Hough on winning season 17 of Dancing With the Stars and taking home the coveted mirror ball trophy.