'Dancing With The Stars' Recap: The Karate Kid Sweeps This Leg Of The Competition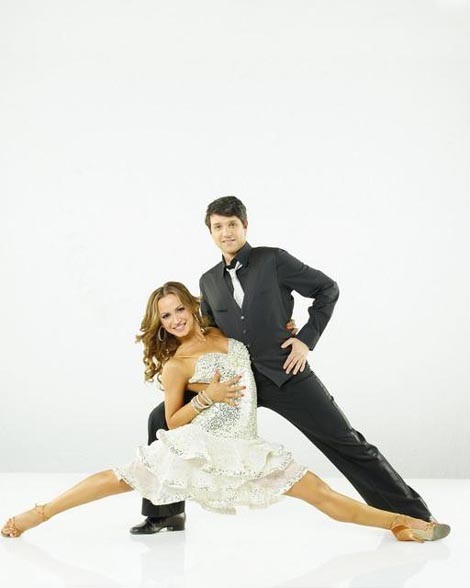 On the season premiere of Dancing with the Stars, we were treated to a handful of surprises. Karate Kid Ralph Macchio started at the top of the competition, and right behind him was... Kirstie Alley!
Meanwhile, fan favorites Kendra Wilkinson and Wendy Williams were on the bottom half - lucky for them, radio personality Mike Catherwood had the worst performance of the night. But let's start at the top:
Ralph Macchio stunned the judges with his foxtrot with partner Karina Smirnoff, set to "Kick in the Head." Judge Len Goodman said the obvious: "You've got great potential... best foxtrot of the night." Ralph netted a 24 of 30. He made an amusing note that he used to own a disco ball in the 70s, so the winner's trophy would make a nice replacement! We like that attitude, Daniel-san.
Kirstie Alley had already taken plenty of barbs from light night talk shows and websites for her choice to be on the show. She said that she wanted to see how far she could physically push herself. The producers saved her hyped performance for last and she and partner Maksim Chmerkovskiy did not disappoint - to the tune of "Forget you." Alley was definitely comfortable, and her score of 23 was second best for the night. She also had this gem: "If I was a size zero and 22, it would be easier... If someone told me to haul ass, it would take two trips."
JONAS star Chelsea Kane came in third for the night with a solid 21. The Disney idol said she was home-schooled and never got to dance at a prom, so this competition will help fill that gap. Her partner is Mark Ballas, who worked with Bristol Palin and got to the finals last season. Set to the tune of "King of Anything," her foxtrot and beautiful white gown were hailed as "a good way to kick off the show."
Hines Ward wants a win after his Pittsburgh Steelers lost in the Super Bowl last February. He displayed great skill in his cha-cha-cha to "Club Can't Handle Me." It appears Hines going to be one of the good dancing athletes! He and partner Kym Johnson received a 21. Judge Len also saved some praise for his butt: "Your bottom is tops."
Remember the last time Romeo was going to be on Dancing with the Stars? Could you believe that was 10 seasons ago? His father Master P stepped in for him that season, but Romeo is definitely here to compete this year. He and Chelsie Hightower danced the cha-cha-cha to "Romeo," and the judges told him he was much better than his father. Romeo got a 19.
Chris Jericho thinks dancing is a lot like wrestling, because it's all in the performance. His cha-cha-cha with partner Cheryl Burke to the tune "Should I Stay or Should I Go" netted a solid 19. However, the judges told Chris they know he is capable of putting up a better performance and want to see it.
Petra Nemcova detailed how the harrowing events of 2004's Indian Ocean Earthquake drove her to live life fully. However, her injuries from the natural disaster have reduced her flexibility. She and her partner Dmitry Chaplin still put up a solid foxtrot to "Don't Know Why" that got an 18 from the judges.
Kendra Wilkinson said she wanted to refine her club dancing skills into ballroom dancing technique. Her cha-cha-cha to "When Love Takes Over" with Louis Van Amstel got judge Len's attention, but "not always for the right reasons." Most of the critique was over some simple technique faults, and she received an 18. At least Hef was there to cheer her on!
While Hines Ward was the good kind of sports-star-turned-dancer, it first appeared Sugar Ray Leonard would be the opposite. He already doubted his footwork at the beginning of rehearsals. Maybe partner Anna Trebunskaya smacked him around a little bit, because the boxing legend's foxtrot to "The Power of Love" got a respectable 17.
The most confusing performance came from Wendy Williams. The outspoken TV hostess seemed very nervous on stage, and the judges noticed. They told her she desperately needs to come out of her shell if she wants to remain in the competition. Tony Dovolani tried his best to bring her real self out to the song "I'm Every Woman," but it netted a horrid 14. 
And then there's Mike Catherwood. The radio personality should probably stick to dancing on radio, too. His foxtrot to "Cooler than Me" with Lacey Schwimmer got a 13 and put him in last place. At least he was upbeat about it, quipping "What I lack in ability to dance I make up for by being the least well-known person in the cast."
How'd your favorite do? Who do you think will win the competition? Let us know with your comments!
Dancing with the Stars Photo Gallery