'Dancing With The Stars' Recap: Snooki Sent Home In Week 7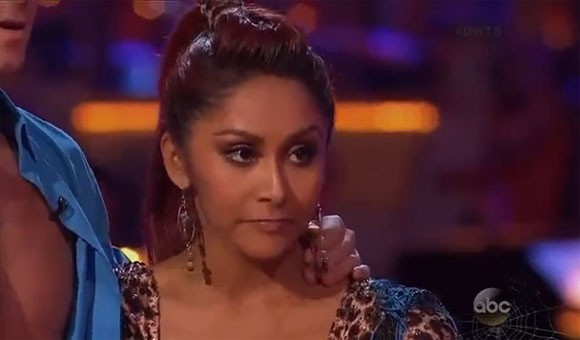 It's the seventh week in the competition and since nobody went home last week, will two couples will be sent home this week or just one? And with last week's Switch-Up surprise, what does Dancing with the Stars have in store for us tonight?
Starting off the night will be Elizabeth Berkley and Val dancing the Quickstep. They begin their dance with an odd little alien invasion scene- weird. Well Len loved it so consider it a success. And the rest of the judges proved that they loved it too with a score of 27. Next up to tackle the Jive will be Brant Daugherty and Peta. All the extra work Brant put in at home seems to be paying off, as his footwork is almost perfect on the dance floor, not to mention his adorable red suspenders. But will the judges agree with what we saw? They apparently do and pull off a score of 27.
Leah Remini and Tony have a very challenging salsa routine this week. As her friend Chelsea Handler watches on from the audience (she just has the greatest group of friends, doesn't she?) Leah dances her butt off to an upbeat Pitbull song. Carrie tells her that she was the hottest salsa dancer at the salsa club and the two score a 26. Jack Osbourne and Cheryl will attempt to conquer the Jive as he struggles with the fatigue associated with MS and begins to break down. It seems for a minute that he may give up but Jack pulls it together and shows the judges that just like Brant and his suspenders, he can dance the Jive too. Bruno calls him a charming dancer and Carrie gives Jack his first 10 for a total of 27.
Amber Riley and Derek are up next with the Paso Doble. As they are both struggling with back and shoulder pain, they push through it and give it their all on the dance floor. By the look of their Paso, it doesn't give us any indication that their bodies are aching at the slightest bit. The two scored a 29 and deserved every point of it. Bill Engvall and Emma are on thin ice this week as they dance their Quickstep to Elvis Presley's "Viva Las Vegas," the two only score a 23 and will most likely be in the bottom three.
Snooki Polizzi and Sasha are really struggling this week as she has a lot on her mind and doesn't comprehend the steps of the Samba. She tries to channel her inner Beyonce but she fears that she may just fall flat on her face. As she comes out in her leopard print dress and adorable facial expressions, we think that she might just impress those judges more than she thinks she will and Snooki pulls off a score of 27. Last week, Corbin Bleu and Karina failed to impress the judges but hope to prove themselves worthy this week with the Cha Cha. Can they pull it off or will they be in the bottom three this week? Apparently all of the men are required to wear suspenders tonight. All those changes in the routine during rehearsal paid off as Carrie claims it was the tightest Cha Cha ever. This week is looking good, Corbin! The other judges clearly agree and give the couple a total score of 29.
This week, the dancers will split up into teams and the winners will add more points to their overall scores. Team Snooki, Elizabeth, Leah and Bill perform a creepy zombie themed dance and earned a 27. Team Amber, Corbin, Jack and Brant hit the dance floor with a furry hip hop creation and score a perfect score of 30.
Who will be headed home this week? Sadly, Snooki Polizzi is going home on this seventh week of competition.