'Dancing With The Stars' Recap: Lisa Vanderpump Faints, Aly Raisman Shines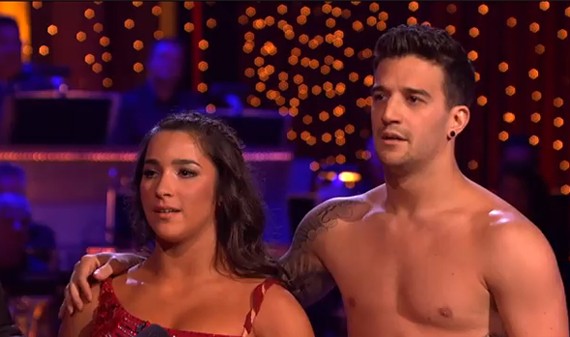 It's story week on "Dancing with the Stars" and the celebrities will be celebrating the best years of their lives. This week the celebrities must perform a solo during their dance.
Sean and Peta started the night off with a Vienneses Waltz that had Sean finishing his solo in his fiancée's arms. The judges said Sean did a good job, had a good frame, and had moments of fluidity. Sean and Peta scored 20 points.
Victor and Lindsay performed a Paso Doble to celebrate his championship but the judges said the dance needed refinement. Bruno said that Victor punched the daylights out of the Paso Doble instead of dancing it. Victor and Lindsay scored 18 points.
Jacoby and Karina performed a Foxtrot as Jacoby's infant son watched from the audience. The judges called the dance phenomenal, joyous, and trotting at full throttle. Carrie Ann sand that Jacoby has a real shot at winning. Jacoby and Karina scored 24 points.
Ali and Mark celebrated Ali's making the Olympic gymnastics team with a Contemporary dance that the judges called balanced, profound, and mesmerizing. Ali and Mark earned the highest score of the night with 27 points.
Andy danced for his daughter as he and Sharna performed a Viennese Waltz that the judges called straight from the heart, his best dance, and beautiful. A very emotional Carrie Ann was in tears after the dance. Andy and Sharna earned their highest score with 21 points.
Looking to reclaim her spot at the top of the leader board, Zendaya and Valentin performed a Samba that had Carrie Ann calling her a baby Beyonce and praising Valentin for his choreography. Zendaya and Valentin scored 26 points.
Ingo and Kym performed a Viennese Walts that had the judges commending his footwork, was elegant, dashing, and deeply romantic. Ingo and Kym scored 23 points.
D.L. and Cheryl performed a Foxtrot that Carrie Ann called a real breakthrough and the judges saying was his best dance yet. D.L. and Cheryl scored their best score with 21 points.
Kellie and Derek performed a Rumba as Kellie's husband performed "Say I Do". While the judges felt the performance was a bit staccato, they agreed the pictures Kellie made were beautiful. Kellie and Derek scored 26 points.
After passing out during rehearsals on Friday, Lisa was not feeling well as wasn't sure whether or not she would perform; but decided only 15 minutes prior to her performance, she decided to dance. While the judges noted that she missed some rehearsal time and her dance looked under rehearsed, what she did she did well. Lisa and Gleb scored 18 points for their Cha Cha.
On results night Andre Bocelli, Jennifer Lopez, and Brad Paisley visit the Ballroom; and another couple will be eliminated from the competition.
Scores:
Victor and Lindsay – 18
Lisa and Gleb – 18
Sean and Peta – 20
Andy and Sharna – 21
D.L.and Cheryl – 21
Ingo and Kym – 23
Jacoby and Karina – 24
Zendaya and Valentin – 26
Kellie and Derek – 26
Ali and Mark – 27