'Dancing With The Stars' Recap: Ladies Rule Again On Stevie Wonder Night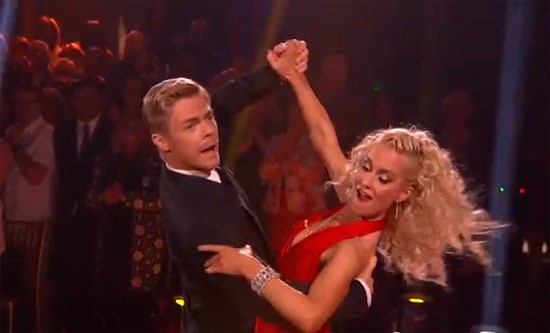 In week six of the competition for the mirror ball we saw Stevie Wonder visit the Ballroom on "Dancing with the Stars" to celebrate 50 years of making music. Not only were all of the songs Wonder hits, they were performed by Wonder himself.
The remaining eight celebs and their partners had to perform two dances this week – their individual dance and a team dance. Each week we've seen the top spot taken by one of the ladies and this week was no different. By the end of the performance filled night, all three of the judges had issued a 10 and Stevie was ready to make a return visit next year to do it all over again.
First up was Zendaya and Valentin with a Cha Cha to "Do I Do" that brought smiles, glowing remarks, and a near perfect score from the judges. Len called Zendaya a great dancer, Bruno called it "gob smacking gorgeous," Carrie Ann was blown away. Zendaya and Valentin scored two 10s and a 9 for a total of 29 points for their dance.
Letter carrier Andy danced a Samba with partner Sharna to "Signed Sealed Delivered" that while the judges thought was fun was also lacking in content. Bruno referred to the dance as a personality driven shambles of a Samba. Andy and Sharna scored 18 points for their Samba.
Also performing a Samba, Sean and Peta danced to "I Wish" in a performance the judges said lacked hip action and musicality. Sean and Peta earned 21 points for their dance.
Dedicating her performance to her home town of Boston, Aly and Mark performed a Foxtrot to "Isn't She Lovely" that Len called a real foxy Foxtrot and Bruno said was as pretty as a picture. Aly and Mark scored 27 points for their Foxtrot.
Stevie sang "Sir Duke" as the DWTS Troupe girls, Ann, and Cheryl danced around Stevie on the dance floor.
Ingo and Kym danced a Tango to "Uptight out of Sight" in a performance that Len said suited Ingo. Celebrating his birthday Ingo earned his highest score this season with 24 points.
Kellie and Derek performed a Quickstep to "Part Time Lover" that the judges called perfection, superb, and the best dance of season 16. Kellie and Derek scored 29 points for their Quickstep including the first 10 of the season from Len.
Victor and Lindsay performed a Rumba to "I Just Called to Say I Love You" that the judges said had no hip action and Bruno compared to an airline safety drill. Victor and Lindsay scored 18 points for their Rumba.
The last dance in round one was a Quickstep from Jacoby and Karina to "For Once in My Life" was so big the dance floor couldn't hold it – the danced in the aisle. Carrie Ann said that Jacoby surprises her every time he steps onto the dance floor. Jacoby and Karina scored 23 points for their Quickstep.
Round two were the team dances.
First up was Team Paso with Zendaya, Valentin, Ingo, Kym, Victor, Lindsay, Jacoby, and Karina with a Paso Doble to "Higher Ground" that the judges said had a few good moments, was kind of messy, a little broken, and too sloppy. Team Paso scored 22 points for their dance.
Team Samba was Kellie, Derek, Andy, Sharna, Sean, Peta, Aly, and Mark dancing a Samba to "Superstition" in a performance the judges said was fun to watch, had unity, and looked like a reunion of "Boogie Nights". Team Samba scored 25 points for their Samba.
On results night will.i.am and Olly Murs perform; and one more couple will be eliminated from the competition.
Total scores:
Victor and Lindsay – 18 + 22 = 40
Andy and Sharna – 18 + 25 = 41
Jacoby and Karina – 23 + 22 = 45
Ingo and Kym – 24 + 22 = 46
Sean and Peta – 21 + 25 = 47
Zendaya and Valentin – 29 + 22 = 51
Aly and Mark – 27 + 25 = 52
Kellie and Derek – 29 + 25 = 54