'Dancing With The Stars' Recap: Kate Gosselin Berates Partner, Nicole Scherzinger Is The One To Beat & More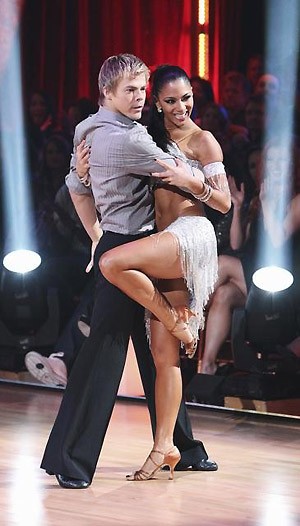 It's Week 2 of "Dancing with the Stars" and everyone has a second chance to strut their stuff before the first couple is eliminated tomorrow night.

Up first is Shannen Doherty (Go BREN!!!) dancing the Jive with spotlight hog/partner, Mark Ballas. The judges are digging her tonight and Bruno even makes a "Heathers" reference. Shannen has not been this happy after a dance since Brenda lost her virginity to Dylan at West Beverly High's Spring Dance. Unfortunately, her scores are a little lower than expected, given all the praise, but still an improvement over last week. (18 last week + 20 tonight =Total Score of 38)

Soap star Aiden Turner and perennial 'DWTS' loser Edyta Slawinkska act out scenes from a soap opera in rehearsal before dancing the Foxtrot. Edyta's big ruffles are a signature method of diverting attention from her spastic partners, which has occasionally worked and may have contributed to the four point increase in Aiden's score.  (19 last week  +15 tonight  = Total Score of 34)

Gold Medalist, Evan Lysacek and his partner, Anna finished last week in 2nd place and look certain to be near the top of the scoreboard after their Jive, despite Evan's wobbly, wild limbs. (23 last week + 24 tonight = Total Score of 47)

Niecy Nash and Louis Van Amstel  get foxy with the Foxtrot after a highly entertaining rehearsal video package. Their dance is just as enjoyable, and aside from Carrie Anne's fake-out admonishing over illegal lifts, the judges all agree. Their score is 3 points higher than last week. (18 + 21 = 39)

The Bachelor and Chelsie are jiving this week. Now Carrie Anne gets her chance to call someone out for a lift, and gets a major dirty look from Chelsie in return. Jake and Chelsie's scores are exactly what they were last week. (20 + 20 = 40)

Moonman Buzz Aldrin and his partner, Ashly had the lowest scores last week, so Buzz decides to use scientific formulas to master the Foxtrot and Ashly decides to milk the moonman thing for all it's worth with the song, "Fly Me to the Moon" and an American Flag planted on the stage. Carrie Anne chirps and calls them out for manipulating us all. Len lets the dancing speak for itself, and not in a good way. Bruno takes a different approach. Then there are some weird maybe-double entendres going on backstage between Brooke and Buzz before the anemic scores come in. For Buzz's sake, let's hope the American Hero thing is worth a whole lot of votes. (14 + 12 = 26)

Pussycat Doll Nicole Scherzinger had the highest score last week, thanks to best partner ever, Derek Hough. Seriously, Derek makes every single partner he's ever had look their absolute best. Mark Ballas, take note. Of course, it doesn't hurt that Nicole started at a higher skill level than many of the other contestants. Perhaps changing up her music is the producer's way of leveling the playing field a bit… although based on Bruno and Carrie Anne's reactions and a score which included two perfect 10's (the first 10's of the season!) it really didn't work. These two are the couple to beat. (25 + 28 = 53)

ESPN Host Erin Andrews turns bad boy/bully partner Maks into the calm one in their Foxtrot rehearsal. They take their prince and princess act to the floor and I think Maks looks kinda like Gerard Butler. He almost pulls her dress down at the end of the performance, she imitates his accent, and it's all very cute in a romantic comedy kind of way. Good scores solidify the happy ending.  (21 + 23 = 44)

Pam Anderson and Damian take the raunch factor down several notches for a Marilyn Monroe-channeling  Foxtrot. Carrie Anne is impressed by Pam's ability to roleplay and Len says something about Pam "titivating" and tells us to google what that means. I did and it actually is a word that means 'to make decorative additions to; spruce up.' Whatever Len. I don't think anyone was quite sure where you were on that one and Tom Cruise and Cameron Diaz are in movie together and I'm missing the trailer. Back on 'DWTS,' Brooke is doing the double entendre thing and talking about seeing all sides of Pamela. (21 + 22 = 43)

NFL Star, Chad Ochocinco and formerly tough teacher Cheryl Burke work on their Foxtrot and flirt. Unfortunately, nice Cheryl does not get the scores that mean Cheryl is used to. I wonder which Cheryl we will see if they make it through this round (18 + 16 = 34)

Kate Gosselin has the last dance of the night. The rehearsal footage shows her berating Tony to the point where he quits. Yes, quits. For the length of an entire commercial break, until we see Tony return and Kate get a dig in about how a lot of people quit on her - aka Jon. Naturally Kate's rehearsal drama is better than her dancing. Bruno calls the routine a nightmare and Kate a Stepford Wife. (More like ex-wife but whatever) Carrie Anne and Len take walks around plainly saying that it was terrible. So… unless she taught her eight kids how to ferociously dial her number for hours on end, it looks like Kate Gosselin's dancing career could very well end tomorrow night. (16 + 15 = 31)

What do you think? Is Kate gone? Who else could it be? Will you ever use the word "titivating" in a sentence? Let us know!
See more photos of "Dancing With The Stars" here!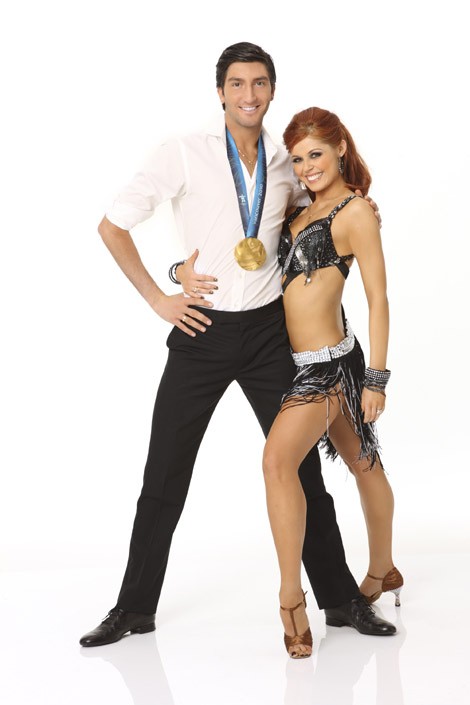 Story by Elissa Farkas
Starpulse contributing writer