'Dancing With the Stars' Recap: Bedtime Stories With The Stars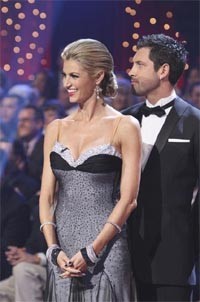 Once upon a time, there was judge... Let's call him Len. He wanted to see dancing that told a story on this week's "Dancing with the Stars." He got his wish. But there was a price. This was a dance competition and the performers started sacrificing their dancing for the story. Len did not see this coming and he was not happy. He scowled and criticized, and gave the stars lower scores than they deserved. How dare Derek Hough break the laws of the quick step!!!!! Until finally, the night of dancing was over and Len vowed to never again ask these fools to do anything but dance.
That was the basic story of last night's "tells a story with your dance" competition unfolded, the discrepancy between the entertainment value and the judge's scores widening more and more with every dance. Not that it didn't get off to a promising start… let's go back and have a look.
Evan and Anna in "Late for a Quick Step" – The story is easy to follow for viewers and judges alike. Evan's rubber Gumby flitting across the dance floor doesn't always work for me, and the judges agree he needs to work on his footwork. That's the same thing, right? Nonetheless, they like the dance very much. Even Len, who believes his storytelling challenge will be a wild success at this point in the night.  They score a 26/30.
Buzz and Ashly in "My Father, the Moonman" – Buzz walks more than he dances and the only reason the story of a father returning to his daughter after war reads at all is because we were told exactly what it was. With Buzz stepping out in uniform and we hear the song "What a Wonderful World," we want it to be good and because we understand what they are going for project a sweetness to their dance that really isn't there. Sorry Buzz. The judges say something equally long winded and Len says his first, "But this is a dancing competition" of the night. But my guess is the whole moonman thing will keep him in the game for a while longer. That and the fact that 'DWTS' fans do love their octogenarians. Score = 13
Jake and Chelsie in "Dance like an Egyptian" – First of all, what's up with Chelsie's two-toned hair that looks like a cross between Cruella de Vil and JWoww from "Jersey Shore?" But yes, I know Len, it's a dancing competition and 'Indiana Jake and the Queen of the Nile' (quote Bruno) did a pretty entertaining quickstep but were overambitious with their dancing and fell short. Score = 21
Niecy and Louis in "Love Free: A Waltz for Equality"- Both pro and star were equally emotional and passionate about their dance telling the story of a couple that was not free to love each other. Even though I agree with Carrie Anne about the execution being a bit confusing, it is rare for the pros on "Dancing with the Stars" to go to such a personal place so Louis gets a big E for effort (and emotion.. and equality). Score = 21
Cheryl and Chad in "The Mating Ritual" – The story is that Chad hearts Cheryl but she is playing hard to get by creating a dance where he tries to seduce her and she rebuffs his advances. It seems more like they both are circling each other and waiting to pounce. This works for Chad, who is voted Most Improved Player after majorly sucking last week. Bruno gets to scream, "You released the Kraken," which he had undoubtedly put on his list of things I really want to say at some point on the show whether they are a stretch or not. Len's dreams of brilliant dancing and storytelling are deflating and he scores the dance a point lower than the other judges. Score = 20
Pam Anderson and Damian in "Quit the Bull S***" – After winding up in the bottom two, Pam decides to tell her kids to vote for her. Then she gets lessons from a Flamenco dancer who looks like Joan Rivers and Michael Jackson's love child, and dances a Pas a Doble for all the animal lovers that think bullfighting is barbaric. Carrie Anne can't believe how much Pam can move her body… I don't really need to say anything here, right? Bruno thinks Pam can be more than a sex symbol and become a brilliant performer of stage and screen. Len's fine with it because that annoying storytelling thing doesn't overpower the dance. Score = 21 (Pam mugs for the cameras in an effort to get some votes this week… we'll see if it works.)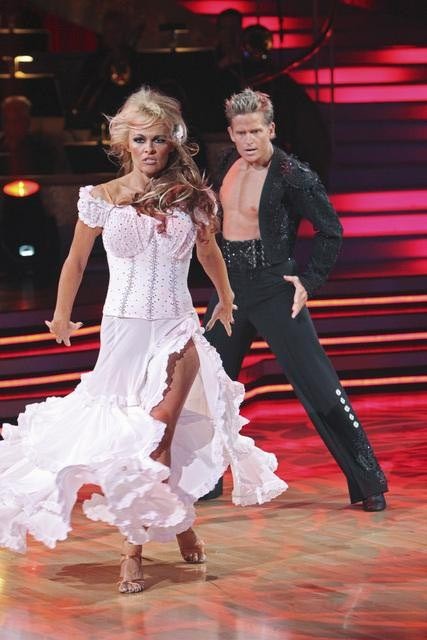 Aiden and Edyta in "Color Me Quick Step" – Edyta spins a story of Aiden painting the perfect woman (her) and the painting coming to life to dance a Quick Step with l'artiste. She's wearing one of those Arabian Disney Princess outfits she seems to love and seems like she's decided to make this one of the seasons where she actually tries to do well. Score = 20
Erin and Maksim in "Trust is Blind" – I personally thought the blindfolded Waltz that Maks cooked up was very entertaining. Len – not so much. That blindfold represents the #1 enemy of dance – GIMMICKS. Taking the time for a gimmick when you should be waltzing – not acceptable in Len's book. Score = 23
Kate and Tony in "Lady Gagagosselin Fights Back" – An acting coach is brought in to help Kate deal with her emotions and channel them into her dancing. Personally I think the woman could have benefited more from a therapist, but that would have been odd… which is the same word Carrie Anne uses to describe her awkward Pas a Doble. Bruno calls her a superBLEEP from hell and as Tom remarks, that was the compliment in his critique. Score = 15
Nicole and Derek in "Slap Stick Step" – 'Anything Went' in this comedic routine. Again, another performance that was super fun to watch through and through was slammed by the judges. Derek Hough will be forced to watch hours and hours of video of Len dancing the Quick Step around the world to make up for his horrible sins. You see, this dance broke not one, but TWO of the biggest rules – NO LIFTS and NO BREAKING HOLD IN A QUICK STEP. Carrie Anne takes off a point for each and still gives them an 8. Len dares Derek to ever mess with the laws of the dance again and gives an unforgiving 6. Score = 23
Based on last week's results show and the judges' scores, it's anyone's guess who will go home this week. I am going to say Kate Gosselin again… and will continue to say her every week until she finally gets the boot, which let's face it she deserves. Like Len says, "We can't forget this is a dancing competition."
What do you think? Who's dancing days are coming to an end? Were the judges too hard on Derek & Nicole? Do you think blindfolds should be used on "DWTS" more often/less often/as often on future shows? Let us know!