'Dancing With The Stars' Recap: Ball Room Shaken Up, As Top Dancer Gets Sent Home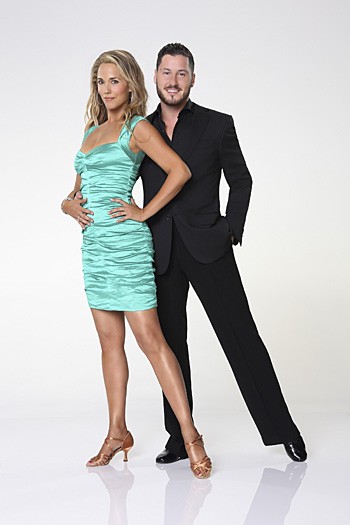 It's week nine on Dancing With the Stars and the competition is getting fierce. Amber Riley and Derek are up first tonight with the Quickstep but will she be able to overcome her double knee injury and power through the steps? That girl must be a fantastic actress because we would have never known there was anything wrong with her knees with that performance. But Len describes their choreography as makeup to the injury and it was blatant to him. The other judges agree that it wasn't Amber's best dance and scores the couple a 24. Leah Remini and Tony are dancing the Tango tonight and when she comes out in that red lace dress, we know it is going to be a hot performance. Tony believes that Leah will be in the finals of the competition and it clearly gives her the confidence to do well tonight. The judges undoubtedly see that too and give her a score of 27.
Corbin Bleu and Karina are dancing the Waltz this evening hoping to prove that their Viennese Waltz two weeks ago was a fluke. Will the judges see their improvement or will they be as disappointed as they were with the Viennese Waltz? Carrie Ann is sure the two will be back next week and the couple scores big with a 28. Jack Osbourne is celebrating his birthday this week with Cheryl in the dance studio. Although it's not his ideal birthday situation, he is hoping that his wishes will come true and he will score big with the judges on his Viennese Waltz. Len absolutely loved it and the couple gets a whopping 29 as their score tonight. Happy Birthday, Jack!
Bill Engvall and Emma have their hopes set high as they dance the Charleston tonight. The two know that they are at the bottom of the leader board when it comes to skill, but the audience just loves their charismatic moves and Bill's personality. The judges love to criticize Bill and Bruno doesn't hold back as he tells him their timing was off. Len and Carrie Ann agree and give them a total of 21. Up next are Elizabeth Berkley and Val performing the Viennese Waltz dressed as Bride and Groom dancing to Lana Del Rey's "Young and Beautiful." Although it wasn't Len's favorite, the two still score a 26.
The second part of the show kicks off with the Trio Dance Round where each couple will pick an eliminated professional dancer or a member of the dance troop to help them out with a routine. Derek and Amber have Mark help them with the Salsa. We just adore Amber; she is the cutest and most hardworking girl on that dance floor. The judges obviously love her too and give the couple a 27, with a grand total of 51 when combining both dances. Leah and Tony chose Henry from the troop to help them with the Jive. The three are pretending to be Carrie Ann, Bruno and Len in a parody and they hope the judges will find the humor in it too. The three pull it off and score a 27, with a total score of 54.
Corbin and Karina choose Whitney from the troop for their Jazz routine. As these three strong-headed dancers come together for this routine we wonder if their moves will be synchronized or off key? Carrie Ann says that their routine was the best that she has ever seen on this show and the other judges agree and give them a perfect 30 bumping up their total to 58. Having to follow up that perfect 30 from Corbin, Jack and Cheryl choose Sharna to boost their Samba. Jack has to be the most adorable thing ever and his facial expressions alone in that routine should earn him a 30. Although the judges didn't think his technique was spot on, they give him a score of 25, making their total 54.
Willy Wonka and Katy Perry….err, Bill and Emma pick Peta to assist them in their playful Salsa. Bill's line during their practice, "where was this when I was in college?" was classic! It was definitely fun to watch but Bill will never score a perfect 10 with the judges. Carrie Ann calls his routine weird and the trio scores a 21 for a total of 42. Again, Bill is funny and amusing to watch and makes us smile. Last but not least, Elizabeth and Val will complete their trio with Gleb to dance the Salsa. That's one hot trio! Her husband must be jealous right about now. And the other competitors should be jealous with a score of 30, a majority of that attributed to the difficulty level. Their total for the night is 56.
With Corbin and Elizabeth both scoring perfect 30's, we assume that they will be safe this week but nobody has a guarantee in this competition. In this shocking elimination tonight, sadly we must say goodbye to someone and that couple is Elizabeth and Val.