'Dancing With The Stars': Motown Diva Gladys Knight Makes Her Exit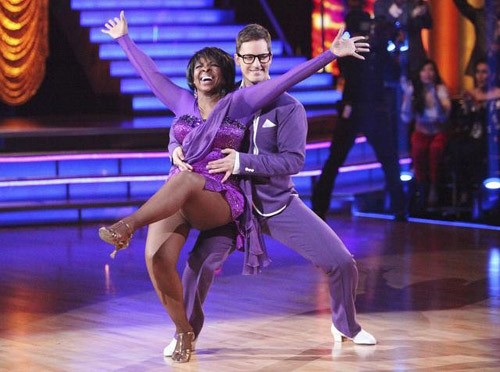 Motown week continued last night, and what another amazing evening. The night included a very powerful and inspiring AT&T spotlight performance by a young ballerina from Sierra Leone who beat the odds, to a live performance of "Wild Horses" by Natasha Bedingfield.

There was also a performane by Award winning group Boyz II Men, who gave us "One More Chance," and the Macy's stars followed with a wonderful performance to David Guetta and Usher's "Without You." The night was very eventful, and once again came the time where one of the stars would be sent home. Going into elimination the judges scores were the following.
1. Katherine Jenkins & Mark Ballas- 163
2. William Levy & Cheryl Burke- 155
3. Maria Menounos & Derek Hough- 152
3. Donald Driver & Peta Murgatroyd- 152
5. Roshon Fegan & Chelsie Hightower-149
6. Jaleel White & Kym Johnson- 148
7. Melissa Gilbert & Maks Chmerkovskiy- 131
8. Gladys Knight & Tristan MacManus  -129
First Jaleel, Maria, William and Melissa were called up for their results, Jaleel and William were saved, but Maria and Melissa, were told that they were in jeopardy of being placed in the bottom. I was very surprised to see that Maria was in jeopardy of being placed in the bottom, but no where in my mind did I think that she would be going home.

Second, Donald, Roshon, Katherine and Gladys were called to receive their results, and Gladys and Roshon were told that they were in jeopardy of being placed in the bottom. This wasn't that surprising, because Roshon doesn't seem to be a fave amongst the viewers and Gladys was the lowest scorer.

Finally the four who were told that they were in jeopardy: Melissa, Maria, Roshon and Gladys, were all called back up and Roshon and Gladys were placed in the bottom to dance off. Here is what the judges had to say about the dance duel.
Judges: Carrie Ann said she has so much respect for the both of them, and it was hard. Len said both of them handled the pressure very well. Gladys danced from her heart. Roshon came out 100%. Bruno said Gladys you are a unique and special lady. Roshon your timing was immaculate.
And the votes came:
Carrie- Gladys
Len- Roshon
Bruno- Roshon

As predicted Gladys went home this week. It was really sad to see her go, but Roshon is definitely a better dancer, and what better week than Motown for the diva to make her exit.  

I'm hoping that Roshon gets more votes next week, because if not I can definitely see him being placed in the bottom again or possibly even going home.

What about you? Thoughts on last night?