'Dancing With The Stars': Maria Menounos Challenges Katherine Jenkins For Top Spot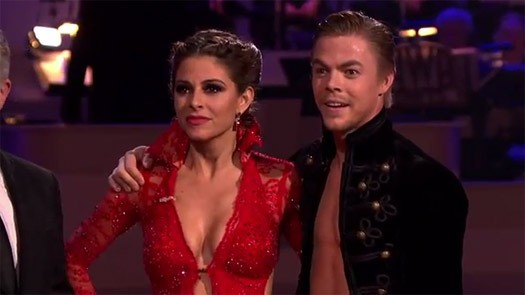 The Motown Celebration ended with the "Empress of Soul," making her exit, which left seven of the stars to battle it out for the seventh week in the ballroom. Now you would think that since it was classical week the intensity and fire would burn out, but things seem to get hotter with Maria and Derek and the steamy shirtless team pose doble dance. I don't know what it was, but the pose doble ruled the night.

The night started off with a performance by award winning violinist and throughout the evening we had the pleasure of hearing the lovely voice of 12-year-old classical singer, Jackie Evancho, and Italian singer, Vittorio Grigolo. Regalness, elegance and fire were the overall themes for the night, which ended with some of the highest scores and Maria and Derek receiving the first perfect score of the season.

Katherine and Mark also made it a memorable one with their opening rumba. And Donald, Jaleel and William, dazzled as they battled to see who would be the best at the Viennese Waltz. If I had to choose a favorite for the night, it would definitely be Maria. As for who's going home, I would say Jaleel or Roshon.
What do you think? Here is the full recap from the show. Let me know your thoughts down below.
1. Katherine Jenkins (Singer) & Mark Ballas
Dance: Rumba
Song: Johann Pachelbel- "Canon in D Major"
Scores: 9, 9, 9
Judges: Carrie Ann said I thought your placement was perfect, but you could have demonstrated more heat. Bruno said the unattainable object of desire toying with her subjects. You could have gone farther to get my juices going, but superb. Len said classical night, and a classic rumba. Katherine there was no rhythm in the song, but you stayed on it

My Opinion: Another wonderful dance from the couple. Each week Katherine brings it and shows that she is definitely in it to win it.

2. Melissa Gilbert (Actress, Writer and Producer) & Maksim Chmerkovski
Dance: Argentine Tango
Song: Wolfgang Mozart- "Marriage of Figaro"
Scores: 7, 7, 7
Judges: Carrie Ann said it was like Cirque du Soleil that went very wrong. You went for quantity and it went terribly wrong. Bruno said you're extremely brave for the attempt, and you really tried really hard, but it got messy and it wasn't clean. Len said it's a marriage of figaro. There was so much intensity that it lacked dance.

My Opinion: The audience loved the performance and I did too. I thought it was very exciting. Lol. I guess that's why I'm not a judge. Glad to see that Maks was able to dance though.

3. William Levy (actor) & Cheryl Burke
Dance: Viennese Waltz
Song: Franz Schubert- "Ave Maria"
Scores: 9, 9, 9
Judges: Carrie Ann said that was true content and dancing. You brought the romance to life.
Bruno said you captured the purity in the song. It looked like you were dancing from your heart. You felt it and live it. Len said I wasn't transported to Vienna, but it was close. Week after week you're up then down, but this week you were up.

My Opinion: I wasn't sure how things were going to go with William's injury, but he did a wonderful job and the ending was beautiful.

4. Roshon Fegan (Disney Star) & Chelsie Hightower
Dance: Argentine Tango
Song: Lady Gaga- "Bad Romance"
Scores: 9, 8, 8
Judges: Carrie Ann said welcome back to the competition. That's what you needed, the confidence. Bruno said your leg movement has to be more grounded, but great job. Len said I liked the transitions into the lifts. You needed to do more with your feet, but overall I thought it was clean.

My Opinion: Roshon is a wonderful dancer, but his performances aren't memorable. I think that he may be in the dance duel again this week.

5. Donald Driver (NFL Football Star) & Peta Murgatroyd
Dance: Viennese Waltz
Song: Giuseppe Verdi- "La donna è mobile"
Scores: 9, 9, 9
Judges: Carrie Ann said I loved the intensity and regalness when you dance. Bruno said reminded me of my hometown. You did it and I loved it. Len said I thought it was terrific. Your footwork was splendid and overall you did a great job.

My Opinion: Donald is one of the top dancers in the competition, and each week he shows it. Again, I love the chemistry between him and Peta.
6. Maria Menounos (Actress, Author and TV Host) & Derek Hough
Dance: Paso Doble
Song: Sergei Prokofiev- "Montagues and Capulets"
Scores: 10, 10, 10
Judges: Carrie Ann said that didn't suck, that was amazing. You were so on fire. Katherine is leading the competition, but she better watch her back. Bruno said Maria the "Queen of the Damned" is the "Queen of the Night." The storytelling and tension spell bounding. Len said sharp as a razor, and the intensity was incredible.

My Opinion: Maria had a few troubles in practice, which didn't show in her performance at all. The performance was fierce, flawless and hands down the best of the night.

7. Jaleel White (Actor) & Kym Johnson
Dance: Viennese Waltz
Song: Mary-Jess Leaverland- "Did I Make the Most of Loving You?"
Scores: 8, 8, 8
Judges: Carrie Ann said don't lose your confidence. The storytelling was wonderful, but watch your arms. Tight. Bruno said you really tried, but it wasn't executed as it could have been. Len said I liked it enough not to be cruel, but not enough to be nice. There was no footwork.

My Opinion: The dance wasn't one of Jaleel's best, and his shoulders and arms seem to be really tight. I won't be surprised if he ends up in the dance duel this week.

Team Tango-27 (Len 8) ( Bruno 9) (Carrie Ann 10)
Maria & Derek
Katherine & Mark
Roshon & Chelsie
Jaleel & Kym
Judges: Len said Maria and Roshon were the stand out couple. Bruno said that the choreography was outstanding. Roshon you killed it. Overal excellent. Carrie Ann said that was incredible. Roshon you brought it home.

Team Paso Doble-26 (Len 8) (Bruno 9) (Carrie Ann 9)
Donald & Peta
Melissa & Maks
William & Cheryl

Judges: Len said undressed to impress. Fire and Ice. Bruno said you guys are superheros. Carrie Ann said that was so much fun. Think that will go down in fan history.