'Dancing With The Stars': Lots Of Perfect Scores In Heated Semifinals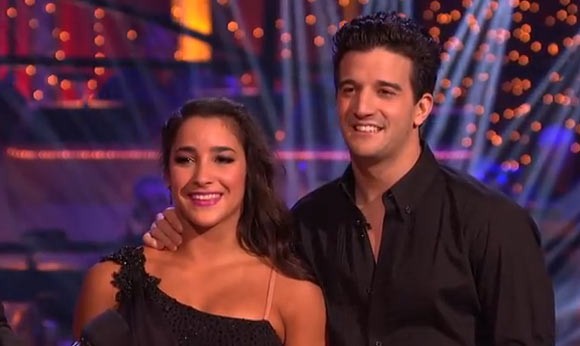 Season 16 of "Dancing with the Stars" has reached the semifinals and the remaining five couples held nothing back, as everyone gave it their all and then some. The judges responded as well with lots of 10s for some really great performances.
Once again this week the remaining couples had to perform two dances.
Here's a recap of how Monday's competition went down:
Kellie and Derek got the night started with an Argentine Tango that began in silhouette. The judges called the dance fantastic, perfection, incredible, and superb. The performance had Bruno comparing Kellie to Chita Rivera. Kellie and Derek scored the first of what would be a night of four perfect scores when they earned three 10s.
Ingo and Kym danced a Samba that had the judges complimenting Ingo for his hard work. Carrie Ann called Ingo an underdog and Len apologized to the sensitive fans for the hip thrusts. Ingo and Kym scored 24 points for their Samba.
Aly and Mark danced a Rumba that had all of the judges talking about Aly's growth and maturity. Carrie Ann was screaming and Len said she told a lovely story. Aly and Mark earned a perfect scored for their Rumba.
Jacoby and Karina danced an Argentine Tango that left Jacoby's Mama shedding tears of joy. With Bruno calling it his best performance ever; the judges said the dance was slick, clean, moody, and intense. All season long Jacoby has been trying to earn a 10 from Len; this week he not only go that 10 but two more to go with it for a perfect score of 30.
Zendaya and Valentin finished out round one with a race inspired Quickstep that Bruno said was a Quickstep for the next generation and pushed the limit. While the judges loved the concept; they noted that the dance lost sync and footing. Earning their lowest score, Zendaya and Valentin scored 25 points for their Quickstep.
Round one scores...
Ingo and Kym – 24
Zendaya and Valentin - 25
Kellie and Derek – 30
Aly and Mark – 30
Jacoby and Karina - 30
Kellie and Derek started the fan choice dances with a Flamenco that host Tom Bergeron thinks should be done more often. While Carrie Ann and Bruno felt that Kellie had tensed up during the dance, Len said that Kellie had booked her place in the finals. Kellie and Derek scored 28 points for their Flamenco.
Ingo and Kym danced a Charleston that Carrie Ann called a grand slam, Len said was Ingo's best dance ever, and Bruno said was mind bending fun. Ingo and Kym earned their best score ever with 27 points.
Aly and Mark danced an Afro Jazz number that the judges said was fantastic, in perfect sync, athletically hard, and exceeded all expectations. Bruno called Aly the queen of the jungle. Aly and Mark scored 29 points for their dance.
Jacoby and Karina danced a Lindy Hop that required more than the dance floor when they began with the horn section and ended sitting on the judge's table. The judges called the performance action packed, high energy, and a frantic frenzy of electricity. Carrie Ann called Jacoby the number one entertainer of season 16. Jacoby and Karina earned 29 points for their Lindy Hop.
Zendaya and Valentin finished out the night with a Hip-Hop that the judges said was cool, hip, incredible, a bit of fun, fantastic, and had great rhythm. Zendaya and Valentin joined the perfect score parade when they scored 30 points for their Hip-Hop routine.
On Tuesday's results show Avril Lavigne and boy band The Wanted perform and one couple will be eliminated just one week shy of the finals.
Round two scores...
Ingo and Kym - 27
Kellie and Derek – 28
Aly and Mark – 29
Jacoby and Karina – 29
Zendaya and Valentin - 30
Final scores...
Ingo and Kym - 24 + 27 = 51
Zendaya and Valentin - 25 + 30 = 55
Kellie and Derek - 30 + 28 = 58
Aly and Mark - 30 + 29 = 59
Jacoby and Karina - 30 + 29 = 59