'Dancing With The Stars': Katherine Jenkins Suffers Injury As Stars Bring Their 'A' Game To Semi-Finals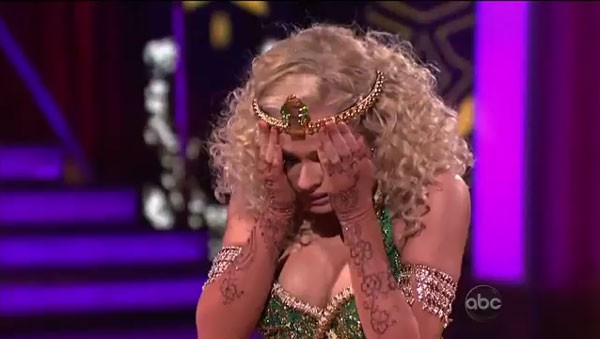 Can you believe that the season is almost over? The semi-finals are here and last night the final four went head to head showing off their fancy footwork. It was the week to bring it, and the stars did just that with stellar performances which Len felt made it "the most competitive semi-finals ever."

Maria and Derek lead the pack with their fiery Argentine tango and jive landing almost two perfect scores. William and Cheryl heated up the ballroom with a magnetic tango and steamy samba that had everyone begging for more. Donald aka "Mr. Big Stuff" and Peta brought us to a dreamland with their lovely waltz and sambaed like there was no tomorrow.
Katherine and Mark also spiced up things with their dazzling quickstep, and took a well-taken risk with a salsa that included lots of sexy belly dancing and hip shaking. Unfortunately this entertaining salsa resulted in a possible injury for the classical singer. Bergeron said that we would get an update on her condition tomorrow though.

Despite Katherine's injury the night was another memorable one. At this point the competition is so stiff that I believe that anyone could take the "Mirror Ball Trophy" home. But with elimination tomorrow I would say that Katherine will be sent home. She's great, but I feel like Maria has stolen that shine she once had.

As for the winner, I think that Maria, William and Donald are all in it to win it, but based on the performances these past few weeks I think that Maria will win it all. What about you? Here is my detailed recap down below.
1. William Levy (actor) & Cheryl Burke
Dance: Tango
Song: The Eurythmics- "Sweet Dreams (Are Made of This)"
Scores: 9, 9, 10
Judges: Len said nothing has been more exciting since my mother put me in long trousers. But, this semi finals is exciting. Overall really good. Bruno said the master of the house, animal magnetism, for me it was ace. Carrie Ann said last week you proved that you were more than just a pretty face. Your swings were a little off though. Especially on the drops.
My Opinion: William's performance was a great way to start off the night. And I have to agree with Carrie Ann, he is more than just a pretty face. 

Dance 2: Samba
Song: Sergio Mendes- "Magalenha"
Scores: 10, 10, 10
Judges: Bruno said the pleasure zone. It was like sex in Brazil. Carrie Ann said you came out and gave the audience the eye like watch this. Amazing. Len said I never looked at a man's bums for so long. The junk is in your trunk. Splendid.
My Opinion: I loved William's hip action and his presence is really strong. I think that he will battle it out with Maria for the top spot.

2. Katherine Jenkins (Singer) & Mark Ballas
Dance: Quickstep
Song: The Brian Setzer Orchestra- "The Dirty Boogie"
Scores: 10, 9, 10
Judges: Bruno said outstanding all the energy and razzle dazzle. Carrie Ann said in order to make it to the finals you have to bring your "A" game and you didn't do that, you brought an A+. Your best dance. Len said I know you can sang, but you can dance. What a fabulous number!

My Opinion: After this performance I thought that Katherine would be coming for the top spot. Amazing.

Dance 2: Salsa
Song: Akon- "Bananza (Belly Dancer)"
Scores: 9, 9, 9
Judges: Carrie Ann said we all saw that it was fantastic. I loved how you pushed your boundries. Len said as you danced I just wrote Katherine the great the wonder woman. Bruno said you unleashed the omelet. It was absolutely wonderful.
My Opinion: I liked how Katherine took a risk with this routine. It was very fun and sexy!


3. Donald Driver (NFL Football Star) & Peta Murgatroyd
Dance: Waltz
Song: Des'ree- "Kissing You"
Scores: 9, 9, 10
Judges: Carrie Ann said dreamy. I was caught in the love story, but I feel your feet got a little trapped. It was fantastic though. Keep the emotions. Len said it was absolutely charming. Big rough tough cream puff. I'm sure Peta would say keep your head to the left though. Bruno said it's not easy to give credit for the waltz, but you deserved it. You extended your arms. it was like romance blossoming before my eyes.

My Opinion: This was a beautiful dance, which I was hoping since this is one of my favorite songs.

Dance 2: Samba
Song: Jean Knight- "Mr. Big Stuff"
Scores: 10, 9, 10
Judges: Bruno said bottom line I liked. You took a big risk, but you won. Carrie Ann said I thought that it was A+ game. Len said he was a little hesistant, but liked it.
My Opinion: Donald gave William a run for his money with the shaking in this samba. I loved it.


4. Maria Menounos (Actress, Author and TV Host) & Derek Hough
Dance: Argentine Tango
Song: Osvaldo Pugliese- "La Yumba"
Scores: 10, 10, 10
Judges: Len said I'm totally caught up in the whole thing. Silent fantastic. Bruno said it lead up to expectations beyond my wildest dreams. Carrie Ann said I'm just thinking about when you first started, which led to this beautiful dance that I just saw. Awesome!

My Opinion: This performance in my opinion was one of the best of the season. I honestly could not take my eyes off of these two. Breathtaking.
Dance 2: Jive
Song: Janelle Monae- "Tightrope"
Scores: 10, 9, 10
Judges: Bruno said some of the footwork looked like a foxtrot step, but it worked. Carrie Ann said you are a winner tonight. Len said I liked the footwork, but it was a traditional dance. I liked it though.
My Opinion: Another awesome dance from Maria. I think that she's going to win!!!