'Dancing With The Stars' - Just Give Katherine Jenkins The Mirror Ball Trophy Already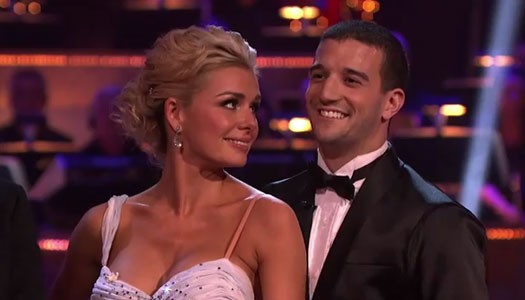 There's still ten dancing teams left in Dancing with the Stars, but it might be time to call it a match - Katherine Jenkins is running away with the competition.
The singer isn't well known here in the States, but that isn't stopping her from racking up the points and becoming the obvious frontrunner. In fact, Jenkins has led every week but one and has already netted two 29/30 scores, thanks to Len Goodman who rarely gives out 10s. That didn't keep him from saying "I'm gonna call you the midwife – you keep delivering week after week" to her last night after an awesome samba.
Jenkins has totaled 163 points on the show, 8 more than closest pair William Levy and Cheryl Burke. She also averages an astonishing 27.2 score, a number that 8 other teams have not achieved for a single dance.
There are plenty of episodes left for someone to come along and start contending with Jenkins - but right now, there's no contest. 
What do you think? Will Katherine win it all?