'Dancing With The Stars' Host Nixes Betty White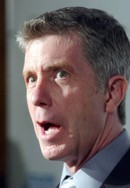 After a Facebook campaign landed Betty White the job hosting Saturday Night Live, it looks like Dancing with the Stars it touted to be her next conquest. The rumor mill is already buzzing about getting White on the show, but DWTS host Tom Bergeron doesn't think it's a good idea.
"I adore Betty White, but I would worry about her too much," Bergeron said. "She's almost 89 now. I think there's a point at which – and the producers will probably wish I hadn't said this – I would honestly be concerned."
Come on, Cloris Leachman was a real contender in her '80s. This is where Bergeron draws the line. "Cloris was 81 or 82 when she did it, and was still swinging her leg up over Corky's shoulder and things like that, but I think when someone's pushing 89 – apart from the marquee value, which is undeniable – you've got to start thinking about, 'Is this something that's really a good idea?'"
As fans await the final results for this season, Bergeron refrains from making predictions. "It's gonna be one of these [contestants], definitely. Unless Cloris Leachman pulls an upset and comes roaring back in. I never would do that, because it pisses off the ones that you don't mention."
Dancing With the Stars airs Monday and Tuesday on ABC.