'Dancing With The Stars' Has Emotional Night In Week 7 Results Show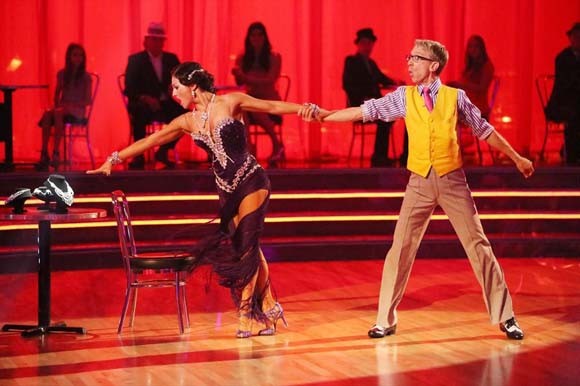 Amidst a performance filled night on 'Dancing with the Stars" emotions ran high as we learned who was sent home in week seven of the ballroom competition. There were some tense moments for former soap star Ingo Rademacher and partner Kym Johnson, along with Ravens player Jacoby Jones and Karina Smirnoff - as all were in jeopardy of being sent home Tuesday night. But it came as no surprise that Andy Dick and first time dance pro partner Sharna Burgess were the couple to be eliminated.
"I've been talking about it from Day One. It's been the best, just the best," said an emotional Andy Dick. "Carrie Ann, I'm gonna kill you for that 5," he joked about her score. "It was all your fault," he laughed.
"That we are here on Week 7 is amazing," Andy continued, "and I really thank everyone here. It's been a wonderful, wonderful ride."
"It's been amazing, I couldn't have had a more incredible experience for my first year as a pro," added Sharna.
The show also covered the emotional story of Boston Marathon bombing survivor Adrianne Haslet-Davis, who lost a foot but vows to dance again. A professional Ballroom dancer and teacher, DWTS promises to not only follow Adrianne's progress but to have her perform in the Ballroom.
Here is a quick recap of Tuesday night's elimination:
After a performance by Whitney and the Troupe guys and a quick recap of Monday night's events Canadian pop star Michael Buble sings "Come Dance with Me".
The encore dance this week was what head judge Len Goodman called a fun, fierce, and fabulous dance – the Salsa by Aly and Mark.
With Kellie and Derek earning the highest score on performance night, they have earned immunity and cannot be eliminated. In the first results of the night Zendaya and Valentine and Aly and Mark are safe but Jacoby and Karina and Ingo and Kym were in jeopardy.
In the AT&T Spotlight Dance the Camden Sophisticated Sisters Drill Team performed. In their video package viewers learned that the water tower where the girls rehearse has no windows or mirrors. After a performance that brought the judges to their feet, hosts Brooke Burke and Tom Bergeron announced that they would provide mirrors for the girls' rehearsal hall.
The Macy's Stars of Dance featured "So You Think You Can Dance" alums Allison Holcomb and Twitch in a performance with violinist Lindsey Stirling as she plays her single "Crystallize".
After a performance from some of the DWTS dancers, the last two couples receive their results; Sean and Peta are safe but Andy and Sharna become the third couple in jeopardy.
In the last results of the night Jacoby and Karina are safe. The two lowest scoring couples found themselves in the bottom two. On the seventh week of competition Ingo and Kym and safe but Andy and Sharna were eliminated from the competition.
An emotional Andy thanked everyone; saying that he had the best time.