'Dancing With The Stars' Goes 'Gangnam Style'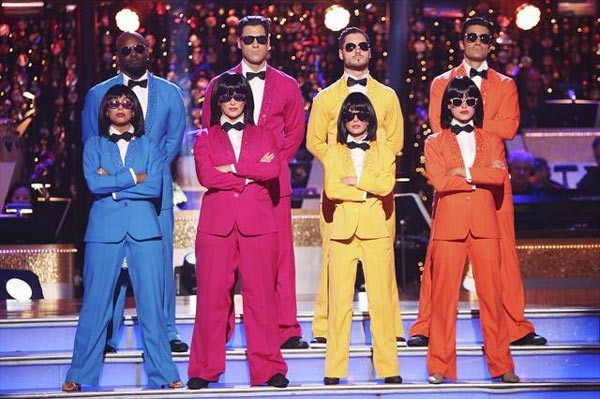 Dancing With The Stars pros and contestants Cheryl Burke, Emmitt Smith, Kirstie Alley, Maksim Chmerkovskiy, Kelly Monaco, Valentin Chmerkovskiy, Peta Murgatroyd, and Gilles Marini took to the dance floor for a little "Gangnam Style" for their Team Dance Monday night.

The song has made Korean singer PSY an overnight sensation as his hit single continues its reign as perhaps the biggest guilty pleasure since Los Del Rio's "Macarena" in the mid-90s. "Gangnam Style" refers to a lifestyle associated with the Gangnam district of Seoul.

Tuesday PSY was spotted at the United Nations Headquarters in New York sharing his dance moves with fellow South Korean and U.N. Secretary General Ban Ki-Moon, who praised his fellow countryman for bringing some hope to the world through the power of music.

"I'm very proud that his performance has been loved and enjoyed by more than 400 million people," the head of the UN said. "It is amazing."

"There are no languages required in the musical world. That is the power of music, that is the power of the heart," he adds.

"In this era of instability and intolerance we need to promote better understanding through the power of music."

Even NFL stars have gotten into horse-trot dance craze, showing off their moves during this week's games (oddly enough it took until week seven of this season for players to start showing their moves).

New York Giants defensive end Jason Pierre-Paul, Carolina Panters running back Mike Tolbert and Buffalo Bills wide receiver Stevie Johnson were all spotted doing PSY's dance over the weekend.

As far as DWTS' "guilty pleasures" night, the remaining contestants -- Apolo Anton Ohno, Shawn Johnson, Sabrina Bryan and Melissa Rycroft -- and their partners did their Team Dance to Carly Rae Jepsen's "Call Me Maybe."

Check out both routines below...