'Dancing With The Stars' Finals: Katherine And Donald Finally Land 10s From Len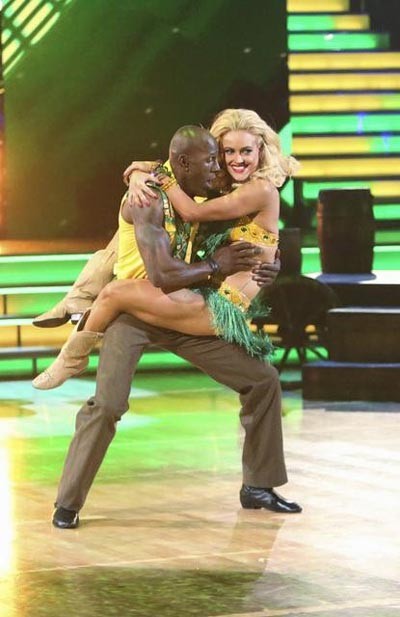 William Levy, Katherine Jenkins and Donald Driver all showed why they deserved to be in the finals last night. And at this point any one of the three could take the Mirrorball trophy home.

The finals kicked off with each of the stars performing two dances, one a judges pick and the other a freestyle dance. The freestyle is usually the make or break you dance, and all of the stars made it through with nearly or perfect scores.

Katherine lead the scoreboard with perfect tens both times around. She also landed her first ten of the season from Len, who couldn't resist the amazing dancing, and ended up giving Donald the ten that he had been waiting for all season.

Although Katherine lead the leaderboard, Donald and Peta's freestyle country mashup was by far the best of the night. "This is by far my favorite finals of all of the seasons," Carrie Ann said to Donald. "And this was my favorite dance of the night."

William also had a spectacular night. The latin heartthrob received another perfect score for his fiery cha-cha-cha and a 29 out of 30 for his sexy hip shaking freestyle routine. "What a thrilling first night of our finals," said Tom Bergeron.

Here is the full recap. It's really hard to call who's going to win, but if I had to pick I would say Katherine. The classical singer really stepped her game up last night and her confidence seems to be at an all-time high.

Who do you think will take the mirrorball home?
1. William Levy (actor) & Cheryl Burke
Dance: Cha-Cha-Cha
Team Judge: Bruno
Song: Pink- "Raise Your Glass"
Scores: 10, 10, 10
Judges: Len said that was a good cha-cha-cha. The best I've seen in 14 seasons. Carrie Ann said you have grown miles and that is what the show is about. Bruno said sizzling sensuality and your hip action made me green with envy.

Dance 2: Freestyle
Song: Shakira-"Objection (Tango)"
Scores: 10, 9, 10
Judges: Len said William what you do, you do well. I liked it. I liked the lifts the rhythm and tango, but it was predictable. All you did was wiggle. Bruno said look at me you two. You were like to devils unleashed upon the earth. Sinful. Carrie Ann said that was exactly what a freestyle dance should have been.

2. Katherine Jenkins (Singer) & Mark Ballas
Dance: Paso Doble
Team Judge: Len
Song: Erich Kunzel-"Espana Cani"
Scores: 10, 10, 10
Judges: Bruno said that was a paso doble full of vivid and luscious artistry. Carrie Ann said it was like watching a prima ballerina. You are the prima diva. Len said it was like a buffet of Spanish tapas, very satisfying and fabulous.

Dance 2: Freestyle
Song: Andrews Sisters-"Sing, Sing, Sing (With a Swing)"
Scores: 10, 10, 10
Judges: Bruno said I have never seen so much content performed so well. Carrie Ann said you are such a fabulous performer. That was the dance of a champion. Len said that's what I call a freestyle.

3. Donald Driver (NFL Football Star) & Peta Murgatroyd
Dance: Argentine Tango
Team Judge: Carrie Ann
Song: Jem- "They"
Scores: 10, 9, 10
Judges: Carrie Ann said I loved it the first time around and I loved it again. What I loved most about this time was that there was a new crispness in your moves. Len said I felt that there was far more content and movement. The lifts were great, but the dance was a bit careful. Bruno said you have been very clever again. Very strong storytelling. I could read everything in the story, it was very effective.

Dance 2: Freestyle
Song: Cowboy Troy-"I Play Chicken with the Train"
Scores: 10, 10, 10
Judges: Carrie Ann said no offense to any of the people from past seasons, this is by far my favorite finals of all of the seasons. And this was my favorite dance of the night. Len said hot to trot. In football catches win matches and chances win dances. Fantastic. Bruno said Donald I can not resist a ride in the wild wild west, a country inspired triumph.