'Dancing With The Stars' Finale Crowns Hines Ward MVP Of The Ballroom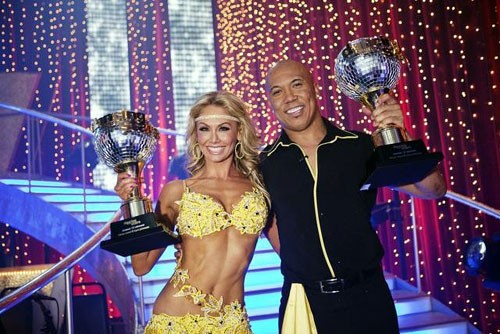 Us audience members were officially cut off Tuesday morning.  No more voting for "Dancing With The Stars."  But the judges still had another set of scores to give on Tuesday's finale, and we got three hours of show to sit through.  Three hours.  They had to make up for Monday's show only being an hour long, I guess.

Luckily the first hour was a repeat, so I don't have to write five million extra words for a third of the show.  Then the opening sequence and voice over for the real show kicked in, and were especially dramatic.  That is saying a lot when talking about this show.  I actually started laughing.  Once I stopped, we had all our pros back on the dance floor, along with all our fallen stars.  I was kind of hoping Wendy Williams wouldn't show up (the way she snubbed Tony during her departure totally rubbed me wrong), but I wasn't that lucky.

So here are the stats from Monday:

1. Chelsea and Mark - 59
1. Hines and Kym - 59
2. Kirstie and Maks - 54

Of course, we have one more dance to go, so these scores and the audience's last votes count for only half the final total.  The judges get the last say.

First they did their little segments where they talk about how wonderful all the stars are all (yada, yada) through the show, and we got some clips with personal audio from Monday night's show.  Maks and Kirstie exchanging "I love you"s was super sweet.  It still baffles me how they wound up working well together, but I like it.

The Black Eyed Peas were one of our musical guests for the night, featuring Fergie on a tiny, sky-high platform that gave me vertigo.  Mike Catherwood took the floor next, and proved that it wasn't just the stress of competition that made him do poorly in the competition.  He's really is just a bad dancer.  But he has a great sense of humor about it!

Petra got an encore of her gorgeous waltz from earlier in the season, and got a surprise half-way through when Dmitry pointed to the stage for her (and us) to see it was Josh Groban singing to their music.  I've kinda been in love with him since learning how funny he is when he hosted the UK's 'Nevermind The Buzzcocks' in December.  And I guess he's got a great voice too.

Kendra shook what her momma (and a plastic surgeon) gave her, and Sugar Ray and Chris did their paso dobles.  I still adore Chris, and he introduced us to his new impression. Of Bruno.  Carrie Ann gave it a ten.  I was more charmed than I already was.  As for Sugar Ray, I really wish they would have had him and Anna redo their "Sugar Plum Fairy" routine.  It should win an award for Most Adorable Performance of the season.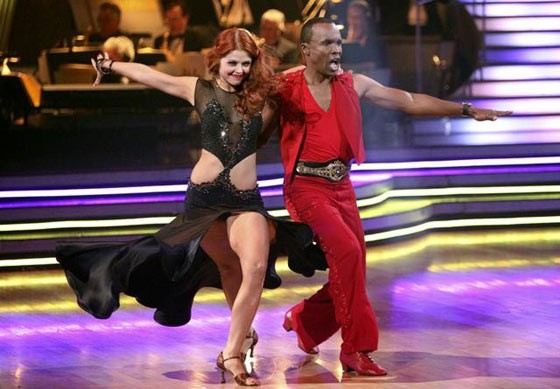 Wendy got a segment with her interviewing herself, which was great because the only thing I like more than Wendy Williams is two Wendy Williams'.  Oh, sorry, is my sarcasm dripping from your screen?

Macy's Design A Dance was next, featuring Maks, Lacey, Cheryl, and Chelsie.  Maks dressed as a cop?  Three girls ripping his shirt off?  Definitely for the ladies.  The Go-Go's provided the music, and a dose of nostalgia for some of us.  Romeo and Chelsie danced too, accompanied by a childrens' choir, Ralph and Karina did their quickstep, and then we finally got to the final three new performances!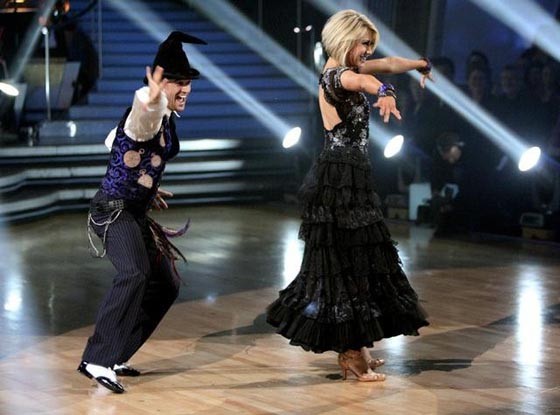 Chelsea Kane (Disney Star) and Mark Ballas
Dance: Viennese Waltz (their "Wizard's Waltz")
Scores: 10, 10, 10
Len said the bottom line was that Chelsea was a fantastic dancer.  Bruno dubbed her "Chelsea the Enchantress", and said she'd never put a foot wrong in the competition.  Carrie Ann said that the people who didn't know Chelsea before the she came on the show would know her now after performances like this.

Well, I didn't like this dance the first time.  I can't say I thought it was great this time either, but I liked that they tried to put a little more tradition into it.  It must have been enough of an adjustment for Len too, given his score.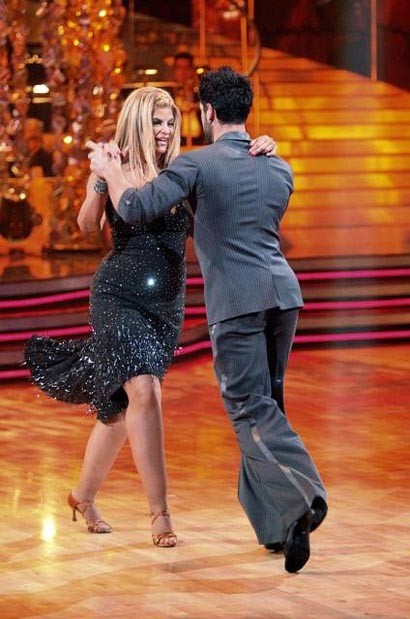 Kirstie Alley (Actor) and Maksim Chmerkovskiy
Dance: Cha-Cha-Cha (their first dance)
Scores: 10, 10, 10
Bruno said Kirstie saved the best for last, and it was flamboyant fun.  Carrie Ann said  she loves Kirstie for being Kirstie, and the performance had some magic.  Len agreed with Bruno that it was her best dance, and praised her growth throughout the season.

I was smiling through this whole dance.  I loved it last season when Derek and Jennifer did their first dance again on the last episode because it showed so much improvement, and Kirstie and Maks were no different.  Way to pull out her first perfect score in the last dance and end on a high note!

Hines Ward (Football Player) and Kym Johnson
Dance: Samba
Scores: 10, 10, 10
Carrie Ann said she thinks Hines is the MVP of season 12.  Len said Hines brings every dance to life.  Bruno said Hines was a charming dazzler that they all fell in love with.

Hines started good this season and stayed good.  Sure he has improved like the others, but not nearly as much as Kirstie.  For me I didn't see much of a dramatic improvement in this dance from last time.  I know always sound like I'm down on Hines, and I hate that, but, you know, I feel how I feel.

We got one last piece of filler in the form of Sarah Evans while the math nerds employed by the show got out their abaci and figured out the total scores, then we found out Chelsea and Mark took third.  They should have really been in the top two, I think, but it's understandable considering she has a smaller fan base than the other two stars.  Kirstie and Hines were left standing at the end, and who took the mirror ball trophy?  Hines.

I was a little disappointed, I'll admit.  I wanted Hines to finish third, but I've said before that I really love an underdog.  Chelsea with her smaller fan base and Kirstie with her various issues really embodied the underdogs.  But the final call wasn't up to me.  In the end, there is no way that I can honestly say Hines didn't deserve his win.  It's been a weird season, but he stayed strong the whole way through.  
Now I just need to find some other form of mindless entertainment to keep me busy until season 13!