'Dancing With The Stars' Fans Express Outrage & Disappointment Over Politics Taking Over Their Show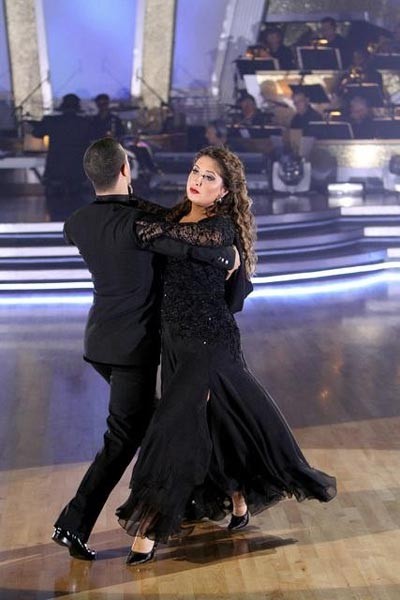 The comments box in our "Dancing with the Stars" page this morning was flooded win fans expressing disappointment that politics have hijacked their show. Last night on "DWTS" Bristol Palin moved on to the finals as Brandy was eliminated. For those that watch the show, Brandy is clearly the better dancer as she was given a perfect score in Monday night's competition which should have earned a spot in the finals. She was also on top of the leader board for several weeks.
Many have suggested that politics and the Tea Party have played a hand in Bristol's success on the show. The theme of the comments generated by Starpulse users suggest this theory and many have stated they won't be coming back next season.
Here are just a few comments by SP members: (Check out all comments here)
Dean Robert Massie: "My wife and I have watched every episode of DWTS. The show was terrific, until last night. It's shameful that ABC sold out the judges, the show, and the public for someone's political agenda. Sarah Palins daughter should never have been on DWTS in the first place. Brandi was totally ripped off last night. She dances circles around Sarah Palins daughter. Bristol dances with all the grace of an expressionless wounded Moose. The show should be based on talent and merit, not on Palins political future. If ABC is so big on Palin, why not have the whole family wear sandwich boards saying "Vote Palin 2012" Sarah and her crew have turned the greatest show in the history of TV into a travesty."
MisterJay: " I have seen at least two 'Republican Advocate Blogs in the past few weeks that urged republicans.... to vote for Bristol, and one of those blog groups sent emails on the night of the show out... urging everyone to call in and vote for Bristol, whether they had actually seen her performance or not.  Brandy being eliminated is sad and totally the wrong choice.:
disappointed4: " I am extremely disappointed that Bristol still remains on the show. I feel that she should have been one of the first to be eliminated. Based on Brandy's performance she deserved to be in the finals. I have always enjoyed watching DWTS, but after tonight I will never watch it again."
comments1: " I was appalled by Tuesday's results show and Brandy's unjustifiable elimination This is political upstaging ! If this injustice continues, multitudes of people will boycott this program disgusted."
Christina A: "Dancing with the stars is the only show I watch on Network T.V., and I must say I do not think I will continue to watch it anymore. The title is Dancing not Popularity or who your relative is. At this point in the show Bristol does not qualify any longer. You should not even have the judges at all if you are only counting the votes from the audience." (Check out all comments here)
Bristol Palin, Jennifer Gray and Kyle Massey are the three dancers remaining and who will be dancing during the finals next week.
What are your thoughts? Should DWTS and other reality shows change their voting policies?