'Dancing With The Stars' - Denise Bombs; Shawn, Gilles & Melissa Blow Everyone Away

It's the third week of
Dancing With The Stars
; the judges already have their favorites and those who they can barely tolerate. But every week something changes the contest, just a little bit.
This week,
Denise Richards
, who has fared pretty average the past few weeks, fell from grace. After performing her samba,
Carrie Ann Inaba
thought that Denise looked frightened to death. Len Goodman explained that the samba is one of the most difficult dances, but that Denise lacked the Latin kick that the dance needed. Bruno Tonioli said her routine was flat and full of holes. Not much worked out for Denise tonight, she received two 5's and a 6 from Len.
Chuck Wicks and
Julianne Hough
finally worked out their student/teacher relationship and performed a "good, but not great" (according to Len) foxtrot. The judges were pleased that Chuck seemed to at least be keeping with the amount of dancing from Julianne this week. Carrie Ann said that he was actually proving to be a contender in this competition and she really liked the dance and choreography that Julianne came up with. He fared much better than past weeks with a score of 23.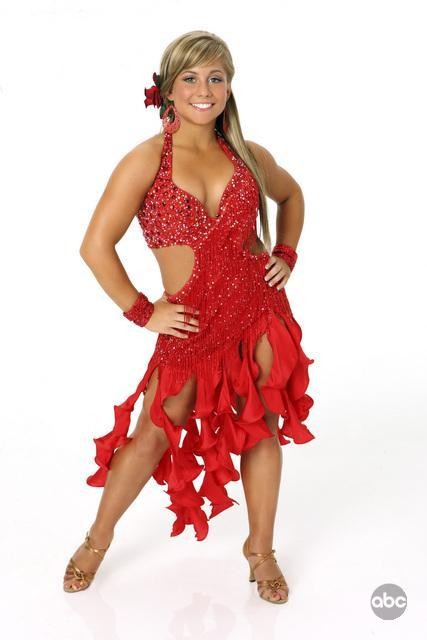 However, the tables didn't really turn for playmate
Holly Madison
. She was very frustrated this week and felt upset and uncoordinated. Her partner, Dmitry, didn't think she was putting enough effort into the routine. Carrie Ann called her samba hard to watch and said she was completely disappointed. Len kept it short and sweet and said she just really needed to focus on her footwork. She received two 6's and a 5 for her performance.
After coming off an injury,
Steve-O
didn't want to rest, he wanted to make a comeback and show everyone he was still in it to win it. He wanted to prove that he deserved his second chance. His foxtrot was a little sloppy, and it showed on his face whenever he messed up. Len, though, said that he came out and did a proper dance and that pleased him. Bruno said it was a shame that he lost it somewhere in the middle because he came out and started so well. Carrie Ann said she respected the fact that he was still trying, especially when she could see that he was in genuine pain. Although, all the sympathy in the world couldn't raise his score above a 15.
Lawrence Taylor got an attitude adjustment this week with his samba. Bruno told him he was light on his feet and had no reason to doubt his dancing ability. Carrie Ann said she saw a new comfort and a new confidence emerging in him. Len, always filled with critique, said that he needed more rhythm from his hips and not his shoulders, but he said that he appreciated his work ethic. He received two 7's and a 6.
Shawn Johnson
has already established herself as a judges' favorite for this season. They thought her foxtrot was beautiful. Carrie Ann carried on about how she has never seen anyone glide the way she does on the dance floor. Len called the foxtrot her best dance to date and loved her arm movements and her fluidity. Bruno was happy she danced with such weightlessness. All those great critiques gave her a grand score of 27 for the night.
Following in Shawn's footsteps might have been difficult, for anyone but the other front runner,
Gilles Marini
. He was inspired this week by a visit from his mother from France. His sexy samba brought tears to his mother's eyes and possibly some of the judges. Bruno told him that he raised the bar for everyone else. Carrie Ann said she was pleased to see Cheryl working it for him. She also told Gilles that he shook parts of the body that she didn't know a man could shake. But of course grumpy Len told him that he lacked some rhythm in his opening set. He was filled with optimism too, though. He told Gilles that he made a hard dance look easy. That's quite a compliment, coming from him. He also earned three nines this evening, making his score a 27.
After a rocky few weeks,
David Alan Grier
came to dance today. His foxtrot impressed the judges. Bruno said his extensions were well done. Carrie Ann gave him snaps for his performance, claiming she didn't know that he was a member of the Rockettes. Len reminded him that even though he impressed the judges tonight, one dance does not make or break this competition. He received eights from all the judges.
After barely escaping elimination last week, Steve Wozniak was back again, but walking wounded. He had to make a trip to the doctor again this week. But, he still came out and brought "his form of entertainment" to the world with his samba. Carrie Ann said it was cute and adorable, but said that the novelty of his dancing was starting to wear off. Len said he thought that the dance was killing him and that it was downright terrible. Bruno lacked Len's tact when he told Steve that it was quite possibly the worst samba ever. He received two threes and a four from Carrie Ann giving him a grand total of 10 for his poor, little samba.
Melissa Rycroft performed her foxtrot with the best of them. Bruno said that she was beautiful to look at and easy to love while Len called her fantastic. Carrie Ann was the naysayer of the group, but she explained that she wanted to see her challenge herself more with her dances. She, like Shawn and Gilles, received all nines from the judges.
Lil' Kim
was happy to dance the samba and let loose. Bruno said her dance was filled with super size sex appeal for someone as pocket sized as her. He also said that while the dance wasn't perfect, she definitely sold it. Carrie Ann agreed on her salesmanship and said that she was naturally drawn in to Lil' Kim's dancing. Len had critique for her partner Derek, asking him to incorporate more fundamental steps into the routine. While she did well, she fell short of the front runners with a score of 25. She did, however, receive her first nine from Bruno.
Last, but certainly not least on the dance floor this week was
Ty Murray
. Ty performed an elegant foxtrot and proved himself as a strong partner when his professional partner Chelsie slipped during their performance. Carrie Ann said he was the most improved dancer by miles. Bruno called Chelsie a miracle worker and told him if he kept this up that they'd be seeing great things from him soon. Len though it was a bit stiff, but overall said it was fantastic and a great routine.
Unlike the past two seasons, it's anybody's game.
Who do you think should win or be eliminated next? Let us know in the comments!
Story by
Beth Wickman
Starpulse contributing writer