'Dancing With The Stars' Awards The Season's First Perfect 30

Dancing With The Stars
finally broke the point barrier and gave three stars the highly coveted ten. The show not only gave out this season's first perfect thirty, but also introduced the audience to two new dances - The Lindy Hop and the Argentine Tango. The Lindy Hop is similar to the jitterbug in its playfulness with flicks and kicks and lifts. The Argentine Tango is a dance of passion and sensuality. Also, based on Monday's performances, two stars will be going home Tuesday in a double elimination.
David Alan Grier
and partner Kym Johnson were up first dancing the Lindy hop. David said in his rehearsal confessional that he wanted the dance to look fun, but in order to grasp the concept of the dance Kym took him to a club called the Lindy Groove. Obviously, the other dancers helped inspire David's dance. All three judges thought the routine was great and fun, but Bruno Tonioli and Len Goodman pointed out that there were some points in the performance where he lost rhythm and timing. His overall score for the night was a 22.
Lil Kim
and
Derek Hough
were up first to perform the Argentine tango. Their two biggest problems during rehearsal came from a lack of knowledge and a lack of seriousness. Ultimately, the two pulled it together and performed a great routine. Bruno said it was "more than just a tango," and called the dance terrific.
Carrie Ann Inaba
said Lil' Kim's lines were great and she showed a great transformation from the beginning to now. However, it was Len was who knocked out by Derek's choreography, but not with Lil' Kim's presentation of passion. Despite Len's score of an 8 and Carrie Ann's Score of a 9, Bruno gave out the first ten of the season giving Lil' Kim a score of 27 for the night.
Chuck Wicks
was excited to be goofy with girlfriend and partner
Julianne Hough
while performing the Lindy hop. He didn't, however, want to do any tricks that might land him on his head. And that fear might have him stuck in a rut. Carrie Ann told him that he needed to go for it more, not necessarily in the tricks, but in general. In her own words, Chuck was "cute, but safe." Len seconded that notion by saying that competent dancing will only get him so far in the competition. Bruno said he needed to be crisper with his dance moves and not be so loose around the edges. He received a 22 for his Lindy hop.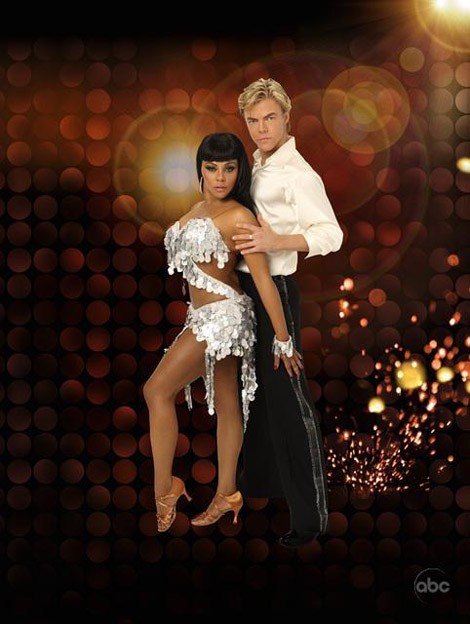 Much like David Alan Grier wanted to see others perform the Lindy hop, NFL star
Lawrence Taylor
wanted to see a professional perform the Argentine Tango to help with his visualization and learning of the dance. Edyta brought in her husband Alec to help during rehearsal. But, Lawrence didn't look like Alec on the ballroom floor. Len told him his tango lacked passion and his feet were too heavy. Bruno and Carrie Ann both thought he executed the dance well, or at least better than Len thought he did, but that the feet and the lack of chemistry were still problematic. His score went down from previous weeks, leaving him with only a 19.
Ty Murray
continues to improve each week. Maybe Chelsie Hightower puts something in the water that not only makes Ty look adorable, but actually dance better too. She used his rodeo strength to their advantage this week with the Lindy hop tricks. Ty said that getting aggressive with the dance helped soothe is nerves. Much like his criticism of Chuck Wicks, Bruno thought that Ty could clean up around the edges. But Len and Carrie Ann agreed that his performance, again, exceeded all expectations and that the choreography was brilliant. Ty only had one little fumble in his routine, but still managed to receive a nine from Carrie Ann and two eights from the boys. His score keeps going up and his Lindy hop landed him with his highest one yet, a 25.
From most improved to still standing, Steve Wozniak "attempted," in Len's words, a proper Argentine tango, but didn't succeed. Carrie Ann couldn't find anything positive to say and Bruno lost his tact again saying the dance really stunk. Len told Steve that anything over last week was an improvement, but improvement is a relative term in their eyes. He only beat his ten from last week by two points, giving him 12 as his grand total.
Melissa Rycroft showed Len her staying power while dancing the Lindy hop. She said during rehearsal that she wanted to jump ahead of the pack this week and stand out. Stand out, she did. Len told her she had the potential to win the competition. Bruno called her performance "eye-popping fun." Carrie Ann told her professional partner Tony that this was the best choreography she'd ever seen out of him. Melissa received two ten's, topping Lil' Kim's one, and scored an almost perfect 29 out of 30.
Holly Madison
's Argentine tango wasn't just painful to watch, it was also painful for Holly who strained her rib muscles last week while dancing. Carrie Ann said she could see the pain on her face while performing. Most of her routine, in fact, was done sitting on a spinning stool. Holly also had a bad start which affected the rest of her performance, and ultimately, her score. Len said that she needed to stop thinking so negatively because some visible signs of improvement were there. Bruno told her to stop being "Barbie" and bring out a vixen. Her lackluster tango only brought out a score of 16.
Steve-O
, who has also experienced a lot of pain throughout the competition, was back kicking and flicking this week during the Lindy hop. Lacey Schwimmer inspired him with a clown outfit, sending him back to his roots. Carrie Ann, however, said it looked like Steve-O was about three weeks behind everyone. Len pointed out that timing was a big issue of his. Bruno cleverly said his Lindy hop was hopping mad and told him, like Holly, to stop over thinking the performances. He only received a 15 for his efforts.
Gilles Marini
and
Cheryl Burke
are obviously front runners considering all their praise and adoration from the judges, and this week was no exception. The two received the first perfect score of the season and left Carrie Ann blushing. She said she couldn't tell the professional from the star. Bruno said he portrayed the quintessential Latin lover role very well, considering he's French. And Len said he loved every element and said he was the only star to showcase the dance to its fullest potential.
And last, but not least, the gymnastics princess
Shawn Johnson
fell from grace this week. She thought the Lindy hop was going to be her forte since it involved flips and tricks. There were just a few too many tricks and not enough dancing for the judges' tastes. Bruno called her footwork heavy and Len didn't see enough dancing. Carrie Ann liked how polished her performance was, but told her to remember that she's a good dancer too, not just a gymnast anymore. Even though Bruno gave her a nine, Carrie Ann and Len gave her eights bumping her out of the running for first place this week.
Who knows what will happen next. Perhaps Steve Wozniak is this season's
Cloris Leachman
? The double elimination on Tuesday will certainly be telling of who has the biggest fan base and who does not!
Story by
Beth Wickman
Starpulse contributing writer