'Dancing With The Stars' All-Stars - Week 2: Will Bristol Palin Be The Next To Go?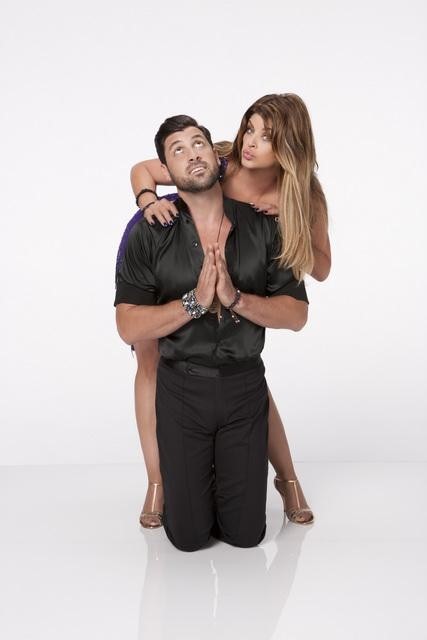 Week two on "Dancing with the Stars" All Stars the 12 remaining couples performed the two fastest dances in the Ballroom – the Jive or the Quickstep.
First up was Melissa Rycroft and Tony Dovolani with a Jive that the judges called full out and the fastest they had ever seen.  Melissa and Tony scored 23.5 points
Bristol Palin and Mark Ballas performed a country Quickstep to "Redneck Woman" that while the judges liked the fun were left wanting.  Bristol and Mark scored 18 points.
Racecar driver Helio Castroneves and Chelsie Hightower performed a Jive that the judges called right on and entertaining.  Helio and Chelsie scored 23 points.
Speed skater Apolo Anton Ono and Karina Smirnoff danced a Quickstep that judge Len Goodman called a gold medal performance with speed and control.  Apolo and Karina scored 24.5 points.
Fan choice Sabrina Bryan and Louis Van Amstel performed a Quickstep that wowed the judges even after Sabrina hurt her arm in rehearsal.  The couple scored 26 points including a nine from Carrie Ann for their dance.
The most "mature" dancer in the competition Kristie Alley and partner Maksim Chmerkovskiy performed a Jive that had Kristie flirting with Len.  Kristie and Maks scored 21 points.
Adorned in a bright red tuxedo, Emmit Smith and Cheryl Burke performed a Quickstep that the judges said was entertaining and easy to watch but felt lacked some technique.  Emmitt and Cheryl scored 22.5 points.
After landing in the bottom two last week, Drew Lachey and Anna Trebunskaya came back to perform a Jive that the Bruno said had energy and attack.  Drew and Anna scored 22.5 points.
Joey and Kym went to the movies with their Charlie Chaplin inspired Quickstep.  While the judges remarked on Joey's lack of technique; they enjoyed the performance calling it entertaining.  Joey and Kym scored 22.5 points.
After three couples scoring 22.5 points, host Tom Bergeron noted that the 7.5 paddle was earning its keep.
Shawn Johnson and Derek Hough began their Jive by cart wheeling off the stairs.  Head judge Len Goodman called the performance just enough but wanted to see more than enough.  Shawn and Derek scored 25 points.
Kelly Monaco and Valentine Chmerkovskiy performed a Quickstep that the judges called elegant and well done overall.  Kelly and Valentine scored 22 points.
The last couple on the dance floor was Giles Marini and Peta Murgatroyd.  Earlier reports stated that Giles had torn a leg muscle when in fact, he had only strained his hamstring.  Not letting the injury deter him, Giles and Peta performed a Jive that the judges called fantastic, fabulous, and great.  Giles and Peta scored 25.5 points.
On the Tuesday results show Katherine Jenkins, Placido Domingo, and Cher Loyd perform; and the first Macy's Stars of Dance performance of the season.
Next week the tables will be turned a bit when the celebrities will take creative control for a reinterpretation of an iconic dance from a past season.
Bristol and Mark – 18
Kristie and Maks – 21
Kelly and Valentine - 22
Emmitt and Cheryl – 22.5
Drew and Anna – 22.5
Joey and Kym – 22.5
Helio and Chelsie - 23
Melissa and Tony – 23.5
Anton and Karina – 24.5
Shawn and Derek – 25
Giles and Peta – 25.5
Sabrina and Louis - 26