'Dancing With The Stars' All-Stars Show Us Their Guilty Pleasures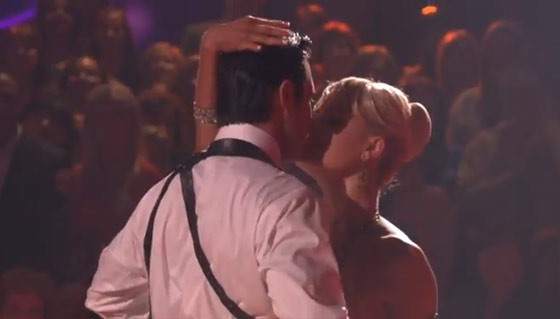 The two part episodes of "Dancing with the Stars" are each one hour long and are both performance shows.  This week besides their solo performances the couples must perform a group dance – a Freestyle dance – with no rules.  Each night one team will perform their solos and the other will perform he group dance.  The group scores are added to the solo performances for a total score.
On guilty pleasures week what tricks the teams would perform was not the only drama.  During group rehearsals Melissa required a trip to the hospital for a neck injury that was diagnosed as a herniated disc.  Despite her injury Melissa was cleared to dance.
Kelly and Valentin performed a Samba to "Want You Back" that did not totally please all of the judges.  Saying that it was not her best dance, Kelly and Valentine score 24.5 points.
As promised, Giles and Peta performed a Rumba to "I Will Always Love You." The performance solicited much cheering from the audience and an excited Carrie Ann fell off of her chair.  Bruno called it a master class in theater, Len thought it should be nominated for an Oscar, and Carrie Ann said, "let the baby making begin" in a performance that again earned the pair a near perfect score with 29.5 points.
Kristie and Maks performed a Quickstep to "Mrs. Robinson" that had the judges agreeing it was Kristie's best performance yet.  Kristie and Maks earned their highest score this season with 25.5 points.
In the last solo performance of the night Emmitt and Cheryl shared the stage with some very large inflatable parrots for their Samba to the Barry Manilow smash hit "Copacabana."  In what Len called an unstoppable performance, Emmitt and Cheryl also scored their biggest score so far with 29 points.
Shawn, Derek, Melissa, Tony, Sabrina, Louis, Apolo, and Karina performed their high school cheerleader and football player themed team dance to "Call Me Maybe."  Len called the performance a touchdown and all the judges agreed the performance was amazing and fantastic.  Team "Call Me Maybe" earned 29.5 points for their performance.
Kelly and Valentine – 24.5
Kristie and Maks – 25.5
Emmitt and Cheryl - 29
Giles and Peta – 29.5
Team Call Me Maybe – 29.5