'Dancing With The Stars' All Stars Hit The Dance Floor In Season 15 Premiere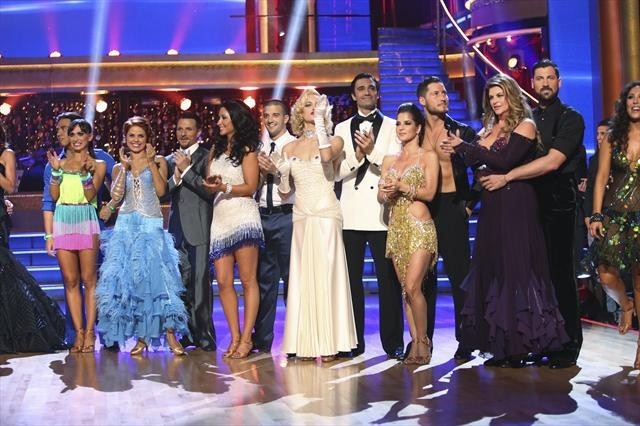 "Dancing with the Stars" returns to television for season 15, except this time around it's more than just some wannabes or has beens attempting to perform on the dance floor.  This season it's the All Stars with 13 celebrities, eleven finalists, and six winners. 
Show hosts Brooke Burke and Emmy Award winning Tom Bergeron return along with judges Len Goodman, Bruno Tonioli, and Carrie Ann Inaba.
Citing a need to become more precise with the scoring, the judges have instituted a new scoring system with the half point.  Head judge Len Goodman pointed out that since all of the dancers have previously appeared on the show, that the judges will be more critical and expect more from the dancers.
On week one the couples will be dancing either the Cha Cha or the Foxtrot.
Former boy band singer Joey Fatone is paired with two time DWTS champion Kym Johnson.  Joey came in second on season four losing out to fellow All Star Apolo Anton Ono.  Joey and Kym performed a Cha Cha to the Michael Jackson hit "PYT: Pretty Young Thing" and earned a score of 20.5.
Season eight champion Shawn Johnson and new partner three time DWTS champion Derek Hough performed a Foxtrot that Bruno said was fully loaded but Len said it didn't feel like a Foxtrot to him.  Shawn and Derek scored 22 points.
Fan choice Sabrina Bryan beat out Carson Kressley and Kyle Massey for the final spot in the All Star line up.  Sabrina is paired with Louis Van Amstel.  The pair performed a Cha Cha to "What Makes You Beautiful" by One Direction. While Carrie Ann felt it was a little over danced Sabrina and Louis scored 22.5 points for their Cha Cha.
Season five champion and race car driver Helio Castroneves and his new partner Chelsie Hightower performed a Foxtrot that was reminiscent of old Hollywood.  Len called Helio a dancer and Carrie Ann called Helio's charisma and charm infectious.  Helio and Chelsie scored 21.5 points.
Pamela Anderson and her new partner Tristan MacManus performed a Cha Cha that had the judge's saying Pamela needed to put in more work.  Judge Len Goodman compared Pamela to a kid on a bicycle whose training wheels had just been removed, shaky but didn't fall off.   Pamela and Tristan scored the lowest points of the night with 17.
Season eight finalist Melissa Rycroft had only two days to prepare for her first dance in season eight but this time around she had the full three weeks to prepare for her performance.  Melissa and partner Tony Dovolani performed a Foxtrot a la Bob Fosse and Cyd Cherise.  Len thought the performance was a little too theatrical for his taste.  Melissa and Tony earned 21 points.