'Dancing With The Stars' All Stars: - Bristol Palin's Dance Card Revoked In Week 4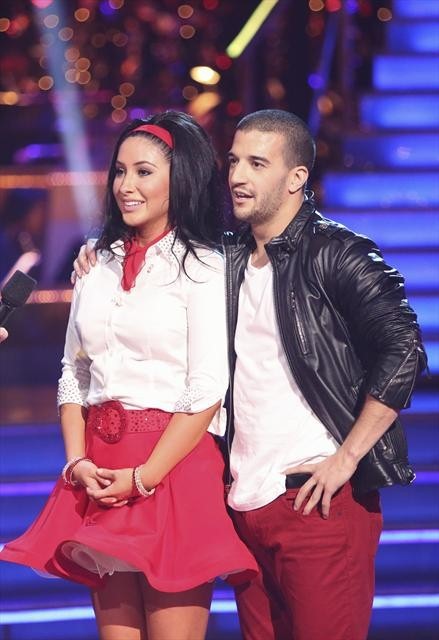 Week four on "Dancing with the Stars" brought a guest judges, rare dances, 10's, and near perfect scores; but not all would be happy for the nine remaining couples; by the end of the night one of them would be going home.
Results night began with a group performance from the "Dancing with the Stars" Troupe and some of the pros.
The first results revealed that Shawn and Derek, Sabrina and Louis, and Kelly and Valentin were safe; but Bristol and Mark were in jeopardy.
After a behind the scenes look with Carson Kressley and the Macy's Stars of Dance performance from the Legion of Extraordinary Dancers; the next group of dancer learned their results.  Emmitt and Cheryl and Giles and Peta were safe; but Apolo and Karina were in jeopardy.  During a chat with co-host Brooke Burke Emmitt revealed that his dance next week would be to the Barry Manilow hit "Copacabana".
Professional dancer Cheryl Burke performed a Cha Cha to a live performance from Tito Puente Jr.  She was joined by some fellow dancers she grew up dancing with.
The final two couples learned their results with Melissa and Tony safe but Kristie and Maks were in jeopardy. 
Season nine DWTS champion Donny Osmond and singing sensation Susan Boyle performed "This is the Moment" as Kym Johnson and Tristan MacManus performed on the dance floor.
The teams for the freestyle team dance were chosen live on the air.  Giles and Shawn had the highest total scores over the past four weeks and would lead the teams.  Dancing to "Gangnam Style" Giles and Peta's team are…Kelly and Valentin, Kristie, and Maks, and Emmitt and Cheryl.
Dancing to "Call Me Maybe" Shawn and Derek's team are…Sabrina and Louis, Melissa and Tony, and Apolo and Karina.
Bristol and Mark were left standing alone.  Host Tom Bergeron told them to stay and they would take the place for the eliminated couple if needed.
The final results revealed that Apolo and Karina were safe leaving either Kristie and Maks or Bristol and Mark as the couple going home.  On Monday Bristol and Mark scored 32 points making it the first week that pair was not in last place on the leader board.
The couple eliminated was… Bristol Palin and Mark Ballas!
Next week the dancers reveal their guilty pleasures.