'Dancing' Star Karina Smirnoff Gets Engaged, Sizzles In Cut-Out Dress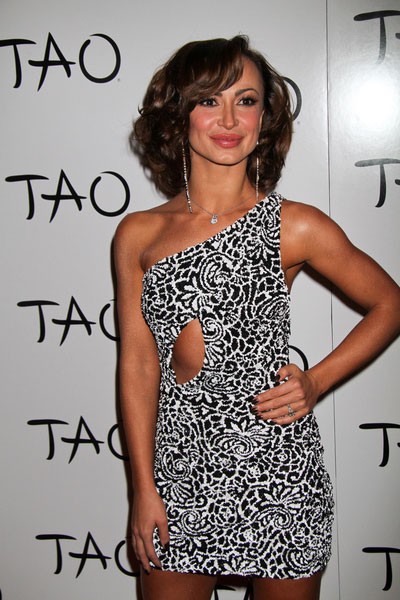 "Dancing With The Stars" dancer Karina Smirnoff showed off her figure at the 5th Anniversary of Tao Las Vegas Nightclub over the weekend. She wore a black and white dress with a strategic cut-out on her chest.
The sexy TV dancer just got engaged to marry her baseball star boyfriend Brad Penny. Smirnoff showed off her huge new diamond ring at the party in Las Vegas on Saturday night and revealed her partner proposed in early October.

She tells People.com, "We kept it quiet because my family is in New York and Brad's family is in Oklahoma so we kind of wanted them to come out and celebrate and be a family first before we let the cat out of the bag."

The pair started dating in October last year, shortly after Smirnoff broke off her engagement to fellow professional dancer Maksim Chmerkovskiy.

The "Dancing With The Stars" beauty has previously dated Mario Lopez, while Penny has been linked to Alyssa Milano and Eliza Dushku.