Dance-Off: 'Dancing with the Stars' vs. 'So You Think You Can Dance'

Two ratings juggernauts. Two programs that have reintroduced dance into the American lexicon. Two hits with remarkably similar formats (three judges, one host, erstwhile competitors trying to improve their technique while fighting for a prize and bragging rights, ultimately awarded by American audiences).
Despite these similarities, viewers of both Fox's
So You Think You Can Dance
and ABC's
Dancing with the Stars
know there are marked differences between the two. With that in mind, how do these shows stack up when compared with one another?
So You Think You Can Dance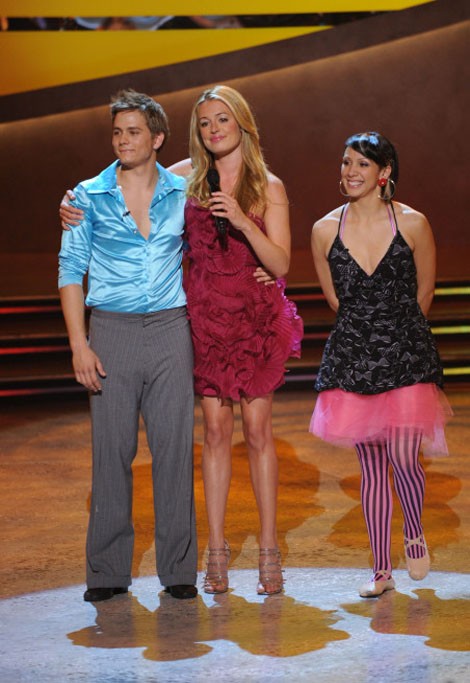 THE GOOD
The Awards:
Critically acclaimed, last year the show won two Emmys for Outstanding Choreography (for numbers by the amazing
Wade Robson
and the "banoodles" Mia Michaels) as well as two Teen Choice Awards (Choice Breakout Show and Choice Summer Series, 2006).
The host:
Lovely, long-limbed
Cat Deeley
displays a warmth, adeptness, humor and compassion that is refreshing, genuine and a pleasure to watch. The popular UK host admits she can't dance - but she's willing to interact with the competitors in ways filled with energy, candor and - for a woman so attractive - a surprising lack of self-consciousness. Dig the Deeley.
The music:
Not every song will be to every viewer's taste, but they are usually thoughtfully selected, always sung by the original artist (via recorded track) and best of all, the show includes title and artist information onscreen so fans can add to their music libraries.
Wardrobe:
The costuming is more often than not breathtaking and spot-on. Though leaning towards the theatrical, the design pieces are rarely distracting and the costumers make an effort to reflect the choreographers' visions.
Choreography:
Across the seasons, the show has featured some heart stopping numbers (like the aforementioned Emmy-winning numbers), many with a narrative focus. Whether zombies, war protesters, anime characters or star-crossed, post-apocalyptic lovers, the dancers embody what the show's talented choreographers do at their best: Elevating two minute dance numbers into epic storytelling. That alone is worth tuning in for.
The format:
While sharing some similarities with Dancing with the Stars, So You Think You Can Dance allows for second chances in a way that DWTS doesn't. America votes three couples into the bottom, but on SYTYCD, those couples are given one last chance to dance a solo in their own dance style before the judges make the final decision. It's an oft-times riveting performance that reminds the judges, the audience, and sometimes the dancers themselves what makes them - potentially -"America's Favorite Dancer."
The judges:
Nigel Lythgoe
Executive-Produces both SYTYCD and
American Idol
so the man knows a thing or two about hit making. He also knows his fair share about dance, as a trained dancer and choreographer. His regular counterpart
Mary Murphy
was a champion ballroom dancer who now owns her own dance academy in San Diego. Assisted in judging by a revolving door of fellow dancer/choreographers, the SYTYCD panel adds insightful commentary about technique and style as well as constructive critiques. Listening to them is not only a master class for the young dancers they're helping to improve, but for the home viewer as well.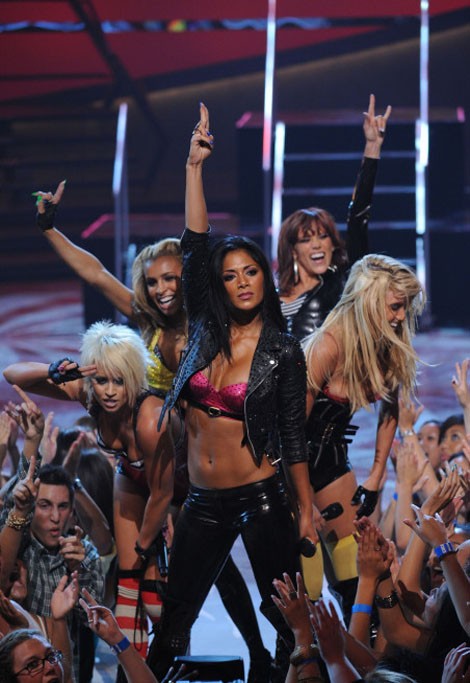 The dancers:
Save the best for last! Armed with passion, unlimited talent and captivating personal stories, one can't help but root for the young competitors showcased by SYTYCD. Skilled in every dance style imaginable from Ballroom, Salsa, Swing, Jazz and Lyrical to Hip-Hop, Krumping and Popping, the show ratchets up the interest by pairing their top 20 individual dancers (many of whom have never done partner-work before) and assigning them dances outside their own specialty. By the season's thrilling conclusion, the last dancer standing is not only "America's Favorite" but also America's most versatile.
THE BAD
Hmm… Well… There has to be something…
THE UGLY
Mary Murphy's infamous scream:
The ballroom judge and TV personality known as the "Queen of Scream" issues an ear-splitting yell whenever dancers win a hard-earned spot on her "hot tamale train". The scream defies human decibels and yet… Aw, who's kidding whom? Even that head-ringing shriek is endearing! This show can do no wrong!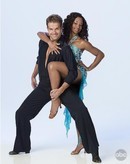 Dancing With The Stars
THE GOOD
The Ratings:
Though SYTYCD is no slouch for a summer hit, its 8.68 million average rating can't compare with DWTS's often boffo regular-season ratings (average 17 million).
The competitors:
As much fun as it is to watch the trained young dancers of So You Think You Can Dance take to the stage with relative ease and grace, Dancing with the Stars has the added interest of watching "stars" (usually 'C' and 'D'-listers) with no dance experience learning from scratch and improving along the way.
The Pros:
DWTS's professional ballroom dancers are fantastic to watch and they shouldn't be dismissed in the area of choreography, either. Though not as myriad and varied as the numbers featured on SYTYCD, these dancer/choreographers whip up hugely entertaining numbers that are challenging yet respectful of the novice dancers who must master them each week.
Tom Bergeron (
America's Funniest Home Videos
): Not sure how his gams stack up next to Cat Deeley's, but his humor is appealing to many.
THE BAD
Tom Bergeron:
…Appealing to many, but not all. Some viewers find his prattle cheesy and off-putting.
Samantha Harris
: In stark contrast to Bergeron's goofy persona, Stepford co-host Samantha Harris is as stiff as the impressive biceps she displays weekly. Whether cutting off contestants mid-sentence (yes, there are time constraints but some hosts manage more finesse), ignoring the dance professionals altogether or unable to conceal her general charmlessness, especially when standing side-by-side with Bergeron, Harris is worse than a distraction - she's forgettable.
The Band:
Call the authorities - DWTS is guilty of crimes against music! Tom Bergeron goes out of his way to make sure the audience gives kudos to the live band - whether they deserve it or not. The band (led by Harold Wheeler) certainly performs their numbers with gusto, but all too often song selection leaves a lot to be desired. Instead of staying traditional, there are many contemporary songs that just shouldn't be tackled by the overeager band (Ahem,
Gwen Stefani's
"What'chu Waiting For" anyone?). Whether it be the fault of the choreographers, producers or the singers who have hit their fair share of wrong notes, most musical numbers fall flat or worse - overshadow the dancing.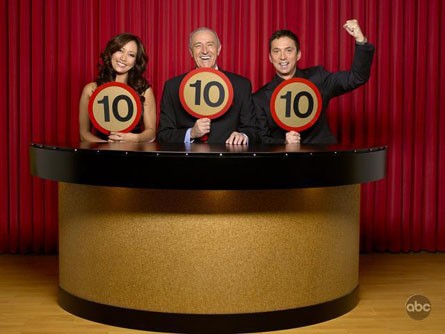 The judges:
While it's hard to find fault with reserved but knowledgeable Brit Len Goodman, thickly-accented Bruno Tonioli seems to add more comic relief than valuable critique with his over-the-top non sequitors and risqué innuendo and frankly, it's hard to take former fly-girl and backup dancer
Carrie Ann Inaba
seriously as a ballroom dance expert.
The Awards/Critical Acclaim: While SYTYCD can't compete with the ratings of DWTS, it did wipe the floor with the ABC hit at last year's Emmys, picking up two of the three Choreography awards (DWTS went home empty-handed).
THE UGLY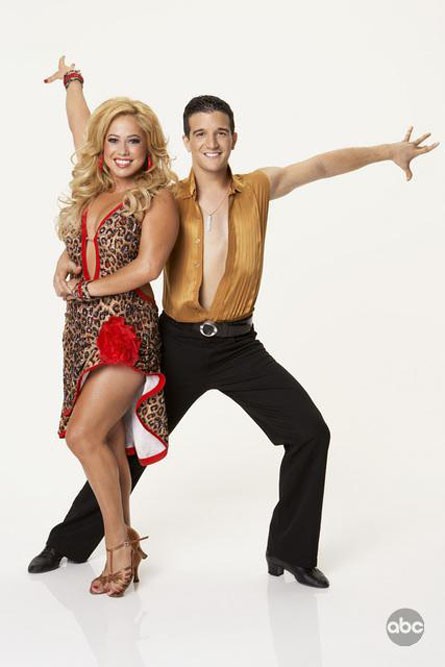 Two words: That wardrobe!
If you can believe it, the costuming is actually less gauche then it used to be, but fans have still witnessed enough tacky atrocities to ruffle feathers (whatever feathers haven't been sewn to contestant's hemlines, that is). The real shocker: As late as last year, the man behind the madness was an Emmy winning costume designer, Randall Christensen. Mr. Christensen, there may be some great bodies on that stage, but swathing them in as little fabric - sequined, bedazzled, lycra fabric at that - as possible does not great costume design make.
The Mirrorball
- The DWTS trophy looks like that third grade project gone awry that Mom kept on the coffee table until it mysteriously went missing one year. The trophy may be a running gag now, but it still deserves to go where that school project went (Give you one guess…).
Entertainment can be largely subjective; it's the beauty in personal individuality and the reason for hundreds of channels of programming. Therefore, though the argument laid before you is that So You Think You Can Dance trumps Dancing with the Stars in quality (wardrobe, music, format and personalities) it is certainly up for debate. What isn't up for debate is that both shows have reinvigorated American interest in dance, informed and educated countless viewers on different genres and styles of the medium, spawned successful tours and launched (or re-launched) more than a few careers. Both are ratings winners and it goes without saying that when it comes to family entertainment, there's not a loser in sight.
Disagree? Let's settle it on the dance floor! (Or, you can just tell us why in the comments!)
Story by
Shannon Peace
Starpulse contributing writer