Dana Delany Talks About Her New Show 'Body Of Proof'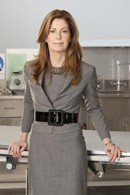 Dana Delany returns to TV as the star of the new ABC series Body of Proof. She plays a surgeon who can't operate anymore after an automobile accident. So she becomes a medical examiner.
"I went and saw an autopsy," Delany said. "I encourage everyone to see an autopsy.  It's fantastic. It will make you really want to take care of your body and have even more awe for what we've all been given. It's a miracle and we got the title right.  The body is the proof, because once you cut that body open, you will see exactly how that person died.  It is all there. All you have do is look and it's there."
The show will see Dr. Megan Hunt (Delany) learn the ropes as a medical examiner. "She will be wrong.  I've certainly asked for her to be wrong, and I agree it can be annoying when somebody's always right and not that interesting ultimately.  So, yeah, she can be wrong and she's certainly wrong in terms of her personal life."
The personal mistakes will be revealed as Dr. Hunt suddenly has to face the life she neglected for hours in the OR. "It's very rare for a woman, especially at my age, to become a neurosurgeon.  It's a lot of years of work, a lot of years of school, and you're not really allowed to have a personal life.  So I kind of see her as an addict that was addicted to the job, addicted to the power, addicted to all that kind of thing, and then she lost it all.  She lost her husband. She lost her child, and lost her job.  It's almost like she's now needing to redeem herself."
Body of Proof premieres Tuesday, March 29 on ABC.