'Dan Vs. Comic-Con': A Chat With The Cast & Creators of TV's Best Unknown Animated Series
Fans of sharp primetime animated shows like Archer and Futurama ought to check out Dan Vs., a series that is just as funny and equally willing to push the envelope. While it's not quite as adult as Archer and doesn't have the devoted fan base of Futurama, Dan Vs. is a hilarious reminder that Saturday cartoons are not just for kids anymore - even as it airs on kids-oriented network The Hub.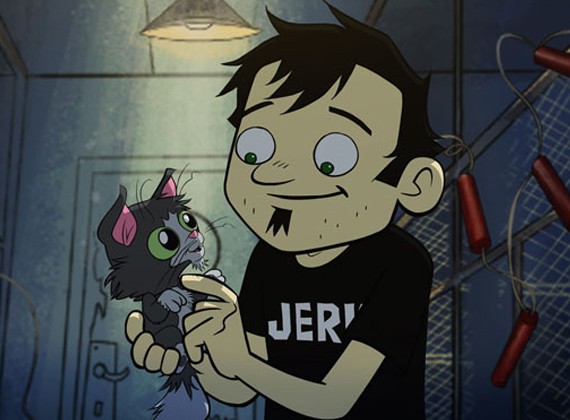 Created by Dan Mandel and Chris Pearson, Dan Vs. takes on - and takes out - the frustrations of everyday life through the character of Dan (voiced by Curtis Armstrong, American Dad!), who seems to hate everything except his cat, Mr. Mumbles. Whenever Dan feels wronged (which is every episode), he swears revenge and enlists his hapless friend Chris (Dave Foley) to help him with diabolical plots to get even. Chris's wife, Elise (former Criminal Minds star Paget Brewster) is the relative voice of reason, although she's often busy creating a new chemical weapon or defusing a bomb in her top-secret government job.
Episodes in the show's first two seasons have included "Dan Vs. Traffic," "Dan Vs. The Dentist," "Dan Vs. Baseball," and more uncommon choices like "Dan Vs. New Mexico" and "Dan Vs. Canada." In other words, there's probably nothing and no one - except for Mr. Mumbles - that's safe from Dan's disproportionate wrath. And what results is half-crazed brilliance.
Creators Mandel and Pearson, director/producer Brian Sheesley, and actors Foley, Brewster and Tom Kenny recently joined me at San Diego Comic-Con to chat about the show's currently-airing second season (Saturdays at 4 PM ET/1 PM PT).
"It's a lot of fun," said Brewster of her role voicing both Elise and Dan's cat, Mr. Mumbles. "Curtis Armstrong, who plays Dan, is the nicest, most gentle, loving guy and just loves his wife and daughter and he talks about cooking. But when he's recording Dan and he blows a line, he looks over at me like I messed him up, and his face is so full of rage because he's in the character of Dan. It's terrifying."
And it's not exactly the kind of thing you'd expect to see on a network that is also home to My Little Pony. "Dan does some hyper-violent, horrible stuff," Brewster continued. Added Foley, "I'm sitting with my daughter watching the baseball episode and [I] realized they just kidnapped a guy."
But he also has a solution to Dan's anger problem: "[In] season three, Dan starts smoking pot and becomes really relaxed and easygoing," he quipped.
"Dan is such a great character," enthused Sheesley, whose directing credits include such animation classics as The Critic and Futurama. "We can put it out there, [the] network can bring us back." Yet so far the network hasn't had a problem with Dan burning down at least two buildings, kidnapping the Commissioner of Major League Baseball, or chaining himself to a fast-food counter, to name but a few of his escapades.
Dan Vs. was originally envisioned as a live-action piece, until Pearson's agent informed him that Adult Swim was looking for animated series, and he pitched Mandel the thought that a format change might work in their favor. "As I was trying to sell it to Dan, I think the possibilities opened up," he explained. Added Mandel, "And the first two scripts were "[Dan Vs. The] Wolf-Man" and "[Dan Vs.] New Mexico." Not the kinds of things one would be able to do on a live-action budget.
In the latter half of season two, we can expect to see episodes such as "Dan Vs. Vegetables," "Dan Vs. The Ski Trip," and "Dan Vs. The Common Cold," plus a very special guest star in another episode. "In '[Dan Vs.] The Boss," we have Felicia Day playing the boss," revealed Pearson. "Everything aligned correctly so that we could finally get her in and it's a really juicy part. And Dan actually has a job for an episode."
As far as future episodes, "We were thinking about a 'Dan Vs. William Shatner' episode and we've never been able to get him," he continued. "The skyward scream that Dan does at the beginning of every episode is very much informed by Star Trek II: Wrath of Khan. I think we've always wanted to see if we can get Bruce Campbell in."
Perhaps the most interesting thing about Dan Vs. is how its main character - and by extension, its lead voice actor - can maintain such levels of anger and not completely explode. "We don't really burn Curtis out, which is surprising with all the yelling," confided Mandel with a laugh, "but he has mentioned that when he goes to do other gigs after this, the director's always like, 'Why are you doing this so angrily?'"
For more on Dan Vs. visit the show's website. Dan Vs. airs Saturdays at 4 PM ET/1 PM PT on The Hub. For more from Brittany Frederick, visit my Starpulse writer page and follow me on Twitter (@tvbrittanyf).
(c)2012 Brittany Frederick/Digital Airwaves. Appears at Starpulse with permission. All rights reserved. No reproduction permitted.