Dan Cortese Returns For More 'Guinness World Records'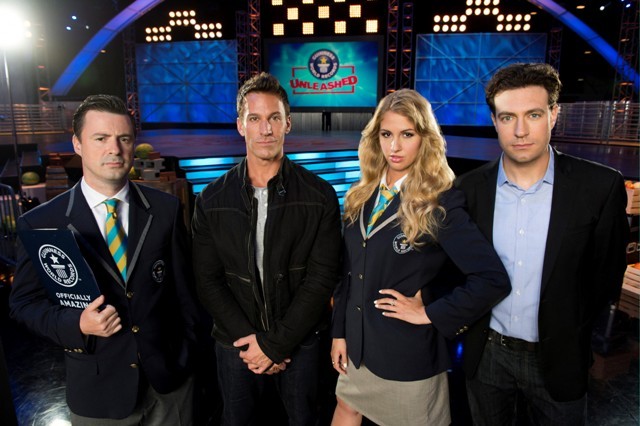 Needless to say, a lot of these attempts fall somewhere between impressive and potentially insane. We asked Dan if there have been any that have just honestly confounded him. "There's quite a few," he commented. "We had a gentleman on last season that hammered nails into two-by-fours with his forehead. I had asked that guy, I said 'How did you even know you could do this?' He's like, 'Well, I was hanging a picture for my wife, I forgot the hammer, I didn't want to go down and get it, so I used my head.' It was out of sheer laziness.
"That being said, the people at Guinness, there's a whole process of what they will determine to be a record and what they won't," he explained, telling us how people end up on the show. "A lot of people submit things to Guinness World Records themselves, and then the people at Guinness decide if it's worthy or not. And then people submit tapes, they go online, there's a casting process."
Dan also told us that you won't find too much on the Unleashed cutting room floor. "You see what we see," he said. "Our director and our crew and everybody this year, I'm real proud of them. Everybody did a great job. The show looks great."
The Unleashed team includes three more on-camera personalities - adjudicator Stuart Claxton plus commentators Liz Smith and Zach Selwyn. The latter's been one of our favorite wisecrackers ever since his hair confused people at ESPN, and so we coerced Dan to dish on him a little bit. "Zach's great on the show," he told us. "We had an attempt coming on to eat the most powdered sugar donuts in a minute. Before we brought the guy out, I said, 'I've seen Zach at the craft service table and I think he could break this record.' Zach attempted to break the record."
Dan will not be following in his co-worker's footsteps in that regard. "I've never thought about breaking one myself," he said. "I pull for each one of our contestants that we have. I really hope that they all break [the records]. Last year, I think we had 42 attempts and 20 didn't break them. It's not everybody. I feel like I was a part of 22 records last year."
As the Unleashed host, responsible for being the connection between the show and the home audience, it's Dan who has the most crucial job, and he's refreshingly not playing up a personality like others in his position. "What you see is me. I think that's something that I'm proud of. I don't put on. What you see is what you get," he reflected. "I'm excited about the show. I'm excited for these people when they attempt things. The other thing is I love my job, so it's not hard to get excited about it."
"I will say this," he told us. "I've been fortunate to be working in this industry for 23 years. A lot of times you go and you promote things that you know deep down inside [aren't] that good. This one, it's fun for me to promote because I love the show, It's an entertaining show. It's a show the entire family can watch. This show is for everybody - and it's impossible not to watch. Even if you're flipping through the channels, you're going to stop and go 'Wait, what is this?'"
Now is your chance to find out. Guinness World Records Unleashed premieres tonight at 8 PM ET/PT on TruTV; you can also keep up with Dan by following him on Twitter (@DanCortese).
(c)2013 Brittany Frederick. Appears at Starpulse with permission. All rights reserved. No reproduction permitted. Visit my official website and follow me on Twitter at @tvbrittanyf.