Dan Aykroyd Tells Kids To Get Off The Phone!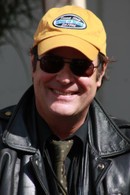 Of course Dan Aykroyd wants people to go see his movies so they can be successful, but he also wants you to go outside and enjoy nature. So go see Yogi Bear where Aykroyd imitates the unmistakable voice of the talking bear. Then take a break.
"I would personally say put up the texting, BlackBerry, laptop, get rid of it for at least a long weekend or four or five days, once or twice a month," Aykroyd said. "We are ruining the attention span of this generation. It's time to get back to nature and get back out and see that there are other creatures out there other than our friends that are being texted and sexted. I encourage it."
You can still be successful in Hollywood without staying connected 24/7. The outdoors served Aykroyd well, and now he's in a movie about saving a national park. "I grew up on the edge of a national park and had to walk to school two miles there and back. That's when I used to watch Yogi in the afternoon, after walking through this park. Timber wolves, creeks, snow drifts, a bad highway, it's just like a story from your grandfather or grandmother, 'I had to walk six miles through the snow.' Well, I did! The only joy was coming home at 4:30 as the light was fading in Hull, Quebec, Canada, and there was Yogi on TV. It was my joy, so I always had an appreciation for nature."
Aykroyd practices what he preaches too. "I pass it on to my children, and we really do have to put up the electronic devices and get back to nature and I think that's part of what we can say here today."
Yogi Bear is now playing.