Dan Aykroyd: 'I Don't Need Fame Anymore'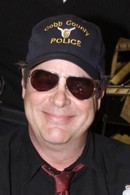 Dan Aykroyd has hinted he'll never shoot another Hollywood movie - unless the long-awaited third Ghostbusters film gets off the ground.

The Blues Brothers actor has been enthusiastic to get cameras rolling on another sequel to his 1984 comedy classic, but the project has repeatedly stalled because of co-star Bill Murray's busy schedule.

Now, Aykroyd has confessed his days of starring in blockbuster movies are over - and he'll only be tempted out of retirement by the right film.

The funnyman tells Seven magazine, "I don't need fame anymore... I'm happy my day is done. It's over... I don't want to work anymore really in film. I'd have to be called up by triple-A superstars. I get offers all the time from filmmakers, but they are unknown quantities. I don't go there and do experiments."

"I've read some terrific scripts, but opportunities that have quality present themselves less and less. Everyone who wants to work goes on auditions and makes impassioned pleas... But it doesn't interest me to pursue like that anymore."