Dan Aykroyd Busted For Speeding On Way To Race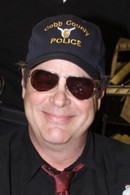 Ghostbusters star Dan Aykroyd was busted for speeding while heading to a professional car race in Canada at the weekend.

The actor was on his way to the Honda Indy Toronto festivities, which he was to host on Sunday, when he was stopped by police for violating the local speed limit.

Aykroyd was let off with a warning.

He later told reporters at a pre-race press conference, "You know when you see these races, you want to get into your vehicles and drive home and you do it trying to imitate the driver? That won't be me this afternoon."