Dame Edna Actor Barry Humphries Lands 'Hobbit' Role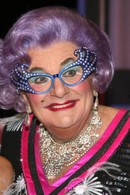 Dame Edna Everage is the latest addition to The Hobbit cast - Australian comedian Barry Humphries has signed up to the highly-anticipated Peter Jackson movie.

Shooting began on the much-delayed project earlier this year, with British actor Martin Freeman playing the film's lead role of Bilbo Baggins.
 
Now, director Jackson has confirmed beloved funnyman Humphries - most famous for donning a purple wig to play the acid-tongued Dame - will play the Goblin King, with the help of motion capture technology.
 
He writes on his Facebook.com page, "I'm highly excited that Barry Humphries will be portraying the Goblin King, in much the way Andy Serkis created Gollum. In his spare time, Barry is also a fine actor, and we're looking forward to seeing him invest the Goblin King with the delicate sensitivity and emotional depth this character deserves."

Another new addition to the ever-growing cast is former Lost star Evangeline Lilly, who will play woodland elf Tauriel.