'Damages' The Complete First Season Available On DVD And Blu-ray

Damages
: The Complete First Season, with all 13 episodes of FX's engrossing legal thriller, debuted on DVD January 29 from Sony Pictures Home Entertainment.
Academy Award® nominee
Glenn Close
(
101 Dalmatians
,
Dangerous Liaisons
) stars in the compelling drama, along with
Ted Danson
(TV's "
Becker
"),
Rose Byrne
(
Marie Antoinette
) and
Tate Donovan
(
Good Night & Good Luck
). Having just been picked up by FX for two more seasons,
Damages
now arrives on a three-disc DVD and Blu-ray™ High-Def disc, both with exclusive bonus content, including behind the scenes featurettes.
Set in New York's world of high stakes corporate litigation, Damages follows the lives of Patty Hewes (Close), one of the nation's most powerful and morally questionable litigators, and her bright, ambitious protégée, Ellen Parsons (Byrne), as they become embroiled in a class action lawsuit targeting Arthur Frobisher (Danson), one of the country's wealthiest CEOs. As Patty battles Frobisher and his attorney, Ellen witnesses just what it takes to win at all costs, as it quickly becomes clear that lives, as well as fortunes, may be at stake.
Damages, which returns for a second season next summer, made its network debut on July 24, 2007. The critically acclaimed drama series averaged 5.1 million viewers (from multi-airings and DVR viewings).
Damages: The Complete First Season episodes include:
-Pilot
-Jesus, Mary and Joe Cocker
-And My Paralyzing Fear of Death
-Tastes Like a Ho Ho
-A Regular Earl Anthony
-She Spat at Me
-We Are Not Animals
-Blame the Victim
-Do You Regret What We Did?
-Sort of Like Family
-I Hate These People
-There's No "We" Anymore
-Because I Know Patty
DVD and Blu-ray Disc Special Features Include:
Digitally Remastered Audio and Video
Widescreen Presentations
Featurette: Willful Acts
Featurette: Behind-the-Scenes
Featurette: Understanding Class Action
Featurette: Trust No One
Deleted Scenes and Bloopers
Audio Commentaries on select episodes
Audio: English 5.1 (Dolby Digital)
Subtitles: French
Bonus Previews
Closed Captioned
Damages: The Complete First Season has a run time of approximately 575 minutes and is not rated.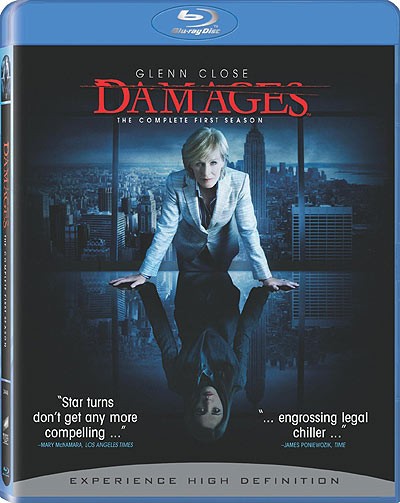 About Sony Pictures Home Entertainment: Sony Pictures Home Entertainment is a division of Sony Corporation of America, a subsidiary of Tokyo-based Sony Corporation. Sony Pictures Entertainment's global operations encompass motion picture production and distribution; television production and distribution; digital content creation and distribution; worldwide channel investments; home entertainment acquisition and distribution; operation of studio facilities; development of new entertainment products, services and technologies; and distribution of filmed entertainment in 67 countries. Sony Pictures Entertainment can be found on the World Wide Web at http://www.sonypictures.com.
-
WIN A COPY HERE!