Damage Inc. Pacific Squadron WWII [REVIEW]: Can a Great Peripheral Excuse a Not Great Game?
There's a lot of peripherals in my closet these days. Extra controllers. Headsets. (I'm not a multiplayer person as I've said in many past reviews.) And tons of plastic guitars and drum kits from my brief obsession with the Guitar Hero and Rock Band franchises.
I certainly didn't need a new peripheral. But when I heard about a new flight stick called the Saitek AV8R FlightStick from one of the best peripheral makers on the planet - Mad Catz - I really, really wanted to review it.
Turns out the game it's bundled with though, if you choose the Collector's Edition, won't be worth it.
That game is Damage Inc. Pacific Squadron WWII. As you might have guessed from the title, Trickstar Games' title puts you right in the center of the action during the Pearl Harbor attack and leads you through all the great and historic aerial battles up to the Battle of Iwo Jima.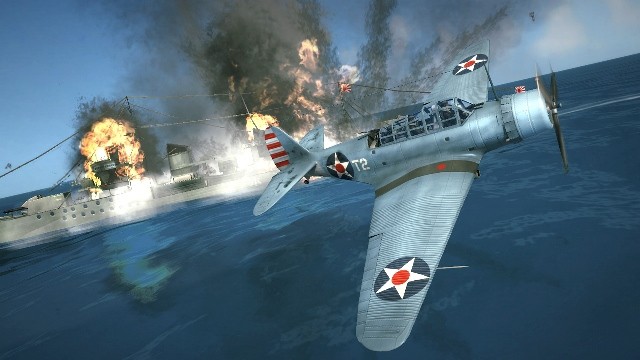 There is an actual plot line for the game. Your brother, who you enlisted with, is shot down during the attack and you want revenge. There's a variety of animated cut scenes that look as if designed from another era, mixed with real footage. As impressive and well put-together as some of them are, unfortunately they shine a light on how unimpressive the rest of the graphics are.
You might think the game was the afterthought and the focus was to be on the FlightStick, even though you can play the game with a regular controller. Tired, blotchy graphics aside, it was certain gameplay features that were especially troublesome.
Missions are long. Super long. And while the checkpoints are frequent and you won't necessarily have to backtrack too far, you need to complete a mission to get a saved game. Pearl Harbor, the first mission, with all of its objectives can take more than an hour. Granted, some of that might be because you will die a lot… even on easy. Make sure you set aside time when you're playing this game.
Why are you dying so much? The FlightStick is responsive. But too responsive. Move it a centimeter and your plane might head straight into the ground. It definitely takes at least a half hour to get used to how the controller really responds to your movements.
From a hardware perspective, the FlightStick is amazing, however. It feels good in your hand, and the button lay-outs in the form of actual buttons, switches and a throttle are all well-designed and positioned in a way that means you aren't constantly looking for the right control when you need it most.
Unfortunately, during the game's tutorial mission, it's not always clear what button or switch does what and you may find yourself searching for the included manual. One other consideration: you're asked to choose between Arcade and Simulation mode and the controls will change accordingly.
In fact, if you choose Arcade, as I did, you'll only get a view behind the plane when playing. That's it. Choose simulation and you can see an external shot, a shot from the nose or in-cockpit view. But, you can't switch it in the middle of the mission—bafflingly, you have to choose it at the beginning of the mission. Seems strange in a world where in just about any racing game, I can switch views with a single button at any time.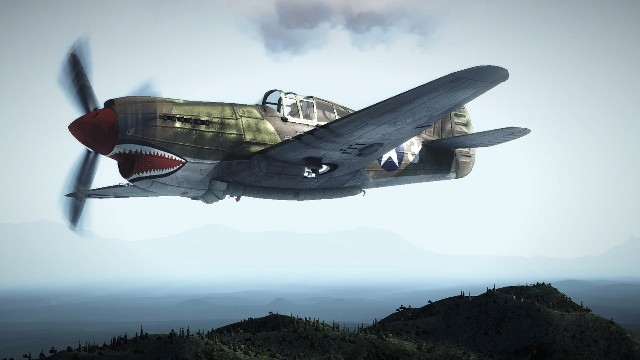 Since the way the game responds to the FlightStick can be frustrating at times, luckily there's a Speed Booster option and a Warspeed mode that allows you to enter Max Payne-like "Bullet Time" to nail in on your kill. Some reviewers online complained that you're not actually aiming at other planes most of the time, but a reticle in front of them—basically, compensating for how far away they are and the time it takes for your bullet to reach them. I actually found that fairly intuitive and liked that part of the dogfighting.
What was difficult, however, was when you were told to protect something and didn't have waypoints that reflected that. Instead, you sort of had to decide which enemies were the ones that were likely targeting that site, and focus in on them. Go too far away and choose the wrong ones to kill, and, well, you fail that part of the mission and have to backtrack to a checkpoint.
I really wanted to like this game. I love the idea that with this game and the re-release of Rock Band 3 last year, that Mad Catz is becoming a publisher of both hardware and software. Plus, we haven't had a solid airborne game in years—but unfortunately, when dogfighting isn't fun, it's hard to recommend the game.
Since the FlightStick can work with other games, you may want to consider just buying that, since I quite liked it. I just didn't like the game it was packaged with.
What would get me though to take this FlightStick out again? If only Mad Catz could create a Battlestar Galactica game…
Damage Inc. Pacific Squadron WWII retails for $49.99 for just the game, and for $99.99 in the Collector's Edition which includes the FlightStick, the game and a collector plane.
* Disclosure: Mad Catz provided the reviewer of this game with the Collector's Edition for the purpose of this review. *