'Dallas' Returns Tonight: See Behind-The-Scenes Photos & Facts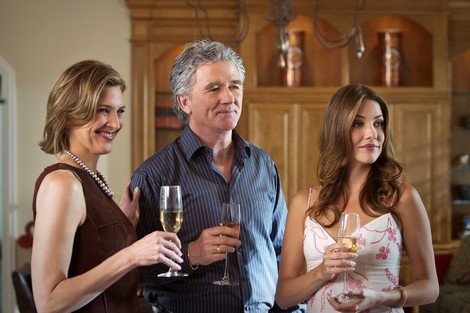 Tonight's the big night: after 21 years off the air, "Dallas" is returning to primetime on TNT. Fans are very excited about the series' return, but not everyone thought it would happen.
Patrick Duffy, who plays Bobby Ewing, recently told the Hollywood Reporter, "I personally never thought that Dallas would resurrect itself again because I didn't think anybody knew how to do it. And it was proven to me on the few attempts that were made."
In tribute to his character, TNT recently launched a steamy ad campaign showing Duffy showering with his co-stars with the tagline: "They're back, and no, you're not dreaming." You better believe it!
Viewers were stunned in 1986 when Bobby Ewing came back from the dead after he was killed in a car crash the previous season.  The infamous plot peaked when Bobby was found by his grieving widow Pamela enjoying a morning shower. Bobby's death - and the entire season - was explained away as a dream.
Starpulse had the opportunity to tour the set and watch a scene being filmed for the new show. Production designer Richard Berg lovingly called uber "Dallas" fans "Forkies" in reference to the Southfork ranch where outside shots are filmed. And yes, Southfork is a real place. The non-working ranch is currently a tourist attraction, but the cast and crew spent many days filming scenes there.
CHECK OUT PHOTOS OF THE CAST, SET & MORE ON THE FOLLOWING PAGES...