Dakota Johnson And Charlie Hunnam Cast As Leads In 'Fifty Shades Of Grey', Producers Defend Choices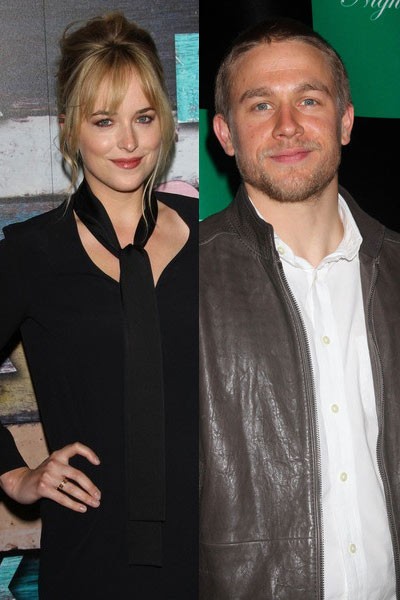 The roles of Anastasia Steele and Christian Grey in next summer's movie adaptation of erotic novel Fifty Shades of Grey have finally been cast.

Author E.L. James, who penned the Fifty Shades trilolgy of 'mommy porn', announced on her Twitter page Monday that actress/model Dakota Johnson, daughter of Don Johnson and Melanie Griffith, and Sons of Anarchy star Charlie Hunnam would be filling the lead roles.

"I am delighted to let you know that the lovely Dakota Johnson has agreed to be our Anastasia in the film adaptation of Fifty Shades of Grey," James wrote, followed shortly after with, "The gorgeous and talented Charlie Hunnam will be Christian Grey in the film adaptation of Fifty Shades of Grey."
Not everyone is happy about the casting though. Die-hard fans of the book have spoken out against the choices and even started a petition on website Change.org.
But producers Dana Brunetti and Michael De Luca took to twitter to calm the uprising.
"There is a lot that goes into casting that isn't just looks," Brunetti wrote. "Talent, availability, their desire to do it, chemistry with other actor, etc. So if your favorite wasn't cast, then it is most likely due to something on that list. Keep that in mind while hating and keep perspective."

De Luca reassured fans that both stars surely won't disappoint.

"Auditions were stunning, incredible chemistry!" he tweeted.

Johnson was rumored to be the frontrunner two weeks ago, while names like Kate Beckinsale and Emma Watson were originally sought after, but didn't want the role.

The story focuses on the relationship between a virginal college graduate (Steele) who goes to work for a powerful billionaire (Grey) and finds herself in a strictly sexual relationship with the kinky businessman that involves S&M.

The film is planned for an August 2014 release.