Daft Punk Unmasked In 'Champagne Pong' Photo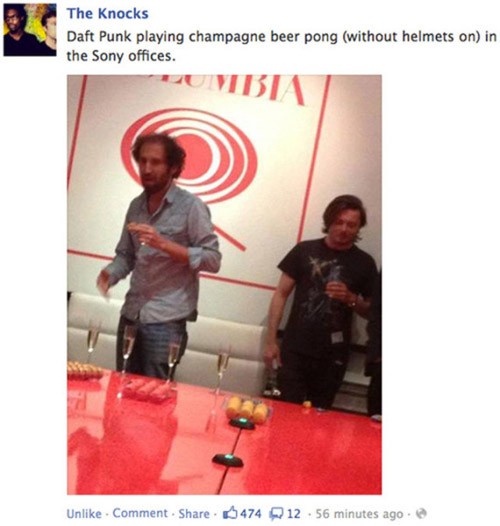 Guy-Manuel de Homem-Christo and Thomas Bangalter, the French men better known as Daft Punk, were snapped playing "champagne pong" in the Sony offices in casual clothing.
The photo was then uploaded by fellow electronic duo The Knocks with the caption, "Daft Punk playing champagne beer pong (without helmets on) in the Sony offices," and minutes later the picture was taken down with the message, "Guess we weren't supposed to post that pic."
This being The Internet, the photo was quickly saved on multiple computers and re-shared. It's easy enough to find a photo of the men inside the Daft Punk robot costumes, but it's apparently still a faux pas to share one.
Thomas Bangalter has talked about being a masked celebrity, describing that it has its up and downs. He told Rolling Stone, "One thing I like about the masks is that I don't have people constantly coming up to me and reminding me what I do. It's nice to be able to forget, but there are occasional downsides. Several years ago in Ibiza some guy ran up exorbitant bar tabs at clubs while claiming to be me."