Daft Punk Cancels On Stephen Colbert, Who Reveals Their Secret Appearance At VMAs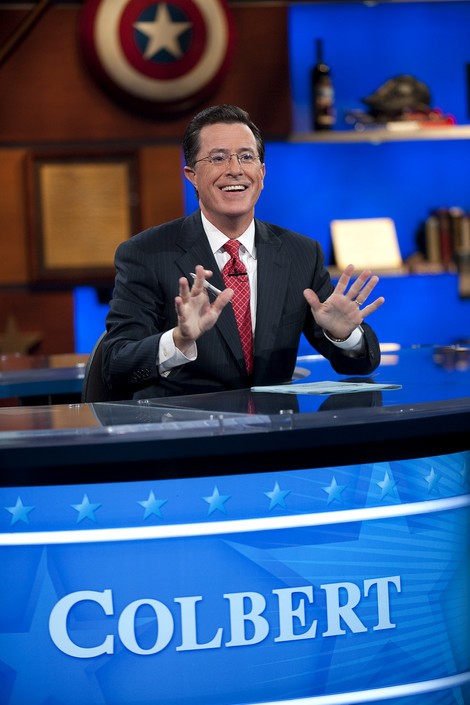 It's safe to say Stephen Colbert called in all his favors with his famous friends last night after Daft Punk canceled on his show The Colbert Report.
Colbert was open about the sudden change in programming, ripping into MTV and parent company Viacom (who also owns Comedy Central, which his show airs on). The French techno dup was set to be the star of his yearly summer music showcase StePhest Colbchella, but was told last-minute they wouldn't be showing up - because they have an appearance on MTV in a month.
Confused yet? Stephen was, until he learned that MTV made Daft Punk sign a contract stating they wouldn't do any TV appearances until their secret (spoiler!) appearance at the Video Music Awards August 25. "Apparently, Daft Punk are going to make a surprise appearance on the MTV Video Music Awards," Stephen said during his show. "Don't tell anyone, because fun fact: No one told me until two o'clock yesterday."
Colbert then revealed an email he got from MTV president Van Toffler, which said: "Not sure I can help you with that one. ... Checked with my peeps .... and they're feelin' funky on this one." Colbert then referred to him as Flan Cobbler.
So, without a show and 2 hours to air - what did Colbert do? He had Hugh Laurie, Bryan Cranston, Matt Damon, Jeff Bridges, Jimmy Fallon and Jon Stewart to appear and dance with him to Daft Punk's "Get Lucky."
As for his musical guest, Stephen managed to wrangle some guy named Robin Thicke to perform a song titled "Blurred Lines." Perhaps you've heard of it.