Daddy Yankee Facing Lawsuit Over 2006 Track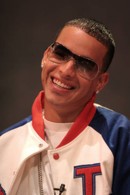 Rapper Daddy Yankee has been slapped with a copyright infringement lawsuit over his hit 2006 song ROMPE.

Musician David Moser is taking legal action against the reggaeton star amid claims Yankee based Rompe on his 1998 track Anoche, which received radio airplay in Mexico City.

The star went on to score huge commercial success with the song and Moser, who is based in San Miguel, Mexico, is suing for at least $150,000 in damages, in addition to a share of Rompe's profits, according to AllHipHop.com.

Legal papers filed in a court in Illinois state: "The infringing song and plaintiffs (sic) songs are substantially similar, because they coincide melodically, rhythmically and harmonically."
Latest Daddy Yankee headlines:
• Enrique Iglesias And Shakira Dominate Billboard Latin Music Awards
• Daddy Yankee Breach Of Contract Lawsuit Dismissed
• Daddy Yankee Robbed
More Daddy Yankee news & articles